"We had to take this on," says Julie Chadwick, executive director, Deltassist. "It's essential that this service continue for the North Delta community. Many people who are experiencing homelessness, job loss and other financial struggles rely on it, especially now during the pandemic."
Julie explains that picking up the reins of the program involved a steep learning curve. Deltassist had to quickly figure out how they were going to run the food bank and how they were going to fund it. "This isn't one of our regular services, so our usual funding wouldn't cover it," she says. "We needed to fundraise to cover its costs." Julie began writing grant applications, eventually securing a $50,000 grant to launch the program.
The team decided to run the program by offering grocery store gift cards that clients could use to do their own shopping. Clients pick up their gift cards every Wednesday, along with pre-packaged food bags containing dry grocery staples provided by the Surrey Food Bank.  Approximately 700 people benefit from the program every two weeks.
Now that the growing season has started, the Society is excited to offer clients a bit of fresh produce from their own community garden. "This is only our second year for the garden," says Lorraine. "Volunteers harvest the produce, such as radishes, spinach and other greens, and individually bag it on Tuesday ready for pick-up on Wednesday."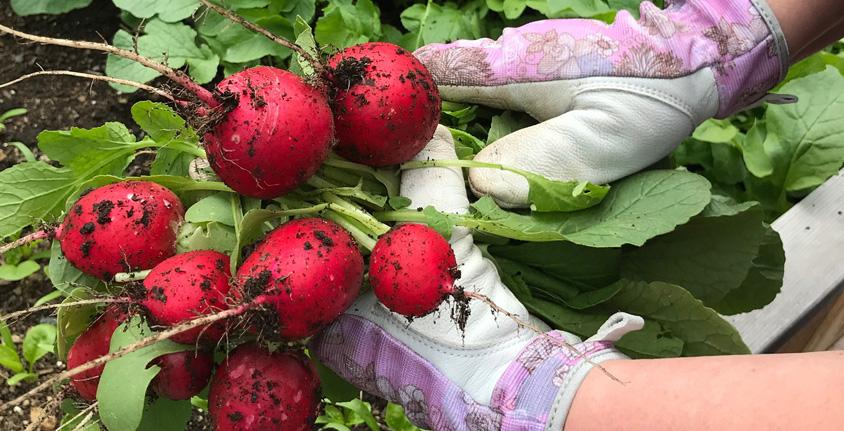 The Society estimates it will need to continue running the food bank until August. Until then, it's costing them $10,000 a week. Julie notes that although grant writing has helped, it's only covering some of the costs. "We need donations to continue running the food bank. The $5,000 we received from FortisBC was a tremendous help for the food bank, as well as for a shopping program for seniors."
The Shop n' Drop program for seniors who are unable to leave their homes is one of the programs the Society launched in response to the current health crisis. Additional temporary programs include an enhanced calling program for high-risk seniors and free COVID-19 counselling for anyone feeling stressed and anxious about the health crisis.
Deltassist's regular roster of programs include counselling and community-building, senior support, outreach programs and information services. Learn more about Deltassist's programs and services, and ways you can help.