Proposed Tilbury LNG Phase 2 Expansion Project could help improve system resiliency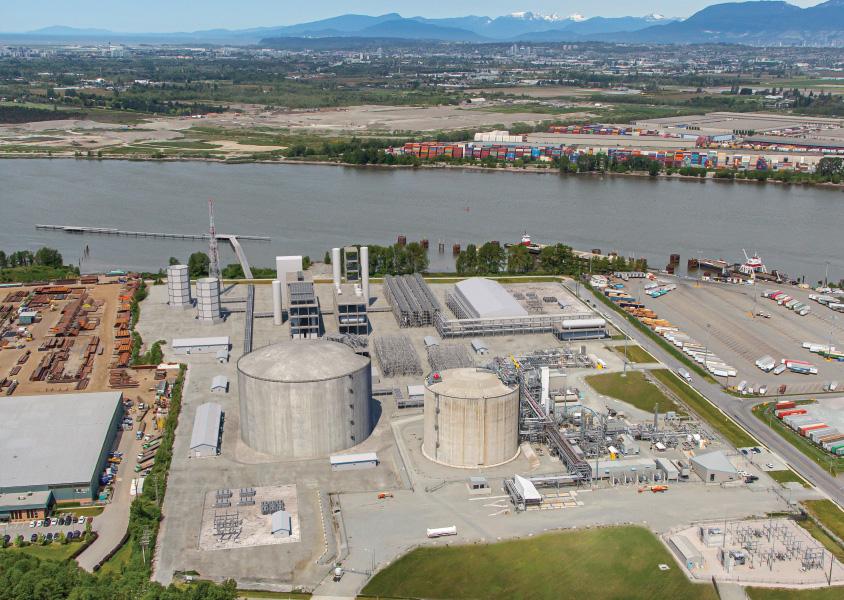 In October 2018, one of our natural gas suppliers experienced a pipeline rupture, resulting in a reduction of gas supply to the Lower Mainland. Our team at the Tilbury liquified natural gas (LNG) storage facility in Delta, B.C. responded immediately, doing what they were trained to do: initiate safety protocols and procedures in preparation to send extra natural gas (send-out) into the system if it was needed.
Our supplier's 2018 pipeline rupture, and the resulting sudden decrease in gas supply to the Lower Mainland, highlighted the importance of having a reliable backup supply of energy in an emergency. 
The Tilbury Phase 2 LNG Expansion (Tilbury) Project would include construction of a new LNG storage tank that would have the capacity to store up to 142,400 cubic metres of LNG—two and a half times the site's existing storage capacity—supplying enough energy to maintain service to the Lower Mainland for at least three days of extremely cold weather.
Colder winters and population growth underscore need to expand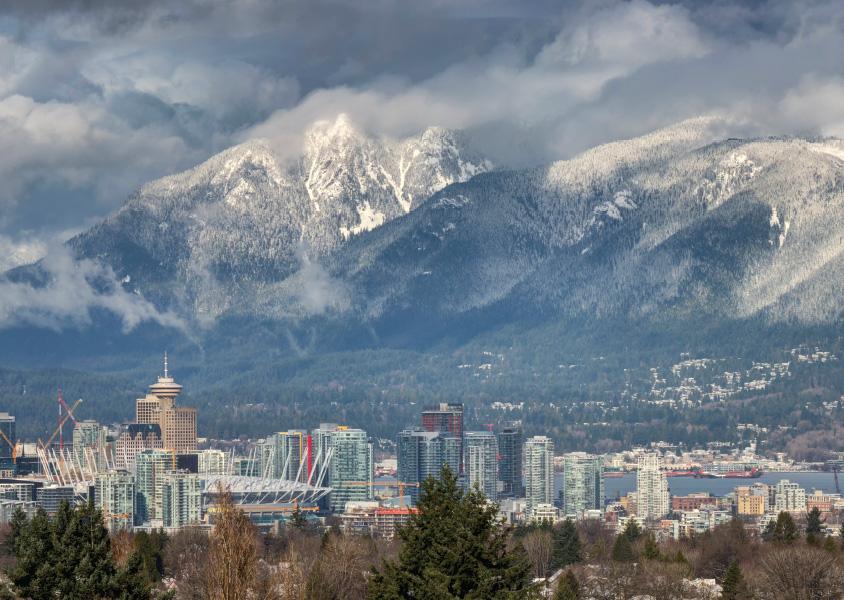 Andrew Hamilton, senior project manager, FortisBC, has worked in the energy industry for more than 30 years, joining the Tilbury team three years ago. "The importance of building resiliency into our energy system can't be understated," he says. "In addition to being prepared for a potential supply shortage, we also need to prepare for the possibility of longer or more frequent cold spells during winter as weather becomes more volatile due to climate change, as well as the projected population increase in the Lower Mainland."
According to BC Stats an additional half million people are expected to arrive in the Lower Mainland by 2030. The population is projected to increase by another half million by 2040.
"By 2040, we could have up to four million people living in the Lower Mainland, and they will all need warm homes in the winter," says Andrew. "In the middle of winter, at times of peak demand, there's twice as much energy delivered to customers in the form of gas as there is in the form of electricity. Worst case scenario, if there was a gas supply disruption in winter, and we weren't able to deliver gas to our customers, only one-third of the energy needed to heat buildings in the Lower Mainland would be available."
If gas supply were to be reduced by more than 30 per cent, the system could also be vulnerable to depressurization, resulting in pilot lights going out across the Lower Mainland. "We absolutely don't want the system to depressurize," states Andrew. "Customers would be without gas for a long period of time while our teams went to every home and business to relight their pilot lights."
The FortisBC operations and gas supply teams have complex safety protocols and procedures in place to prevent a depressurization scenario from occurring, including asking customers to voluntarily conserve their energy use and curtailing gas supply to some large, industrial customers who have agreed in advance to having their gas supply interrupted in an emergency.
"We have good resiliency plans in place but having additional LNG storage makes it that much less likely we'll ever need to use them," says Andrew.
Requests for send-out increased by 50 per cent from 2021-2022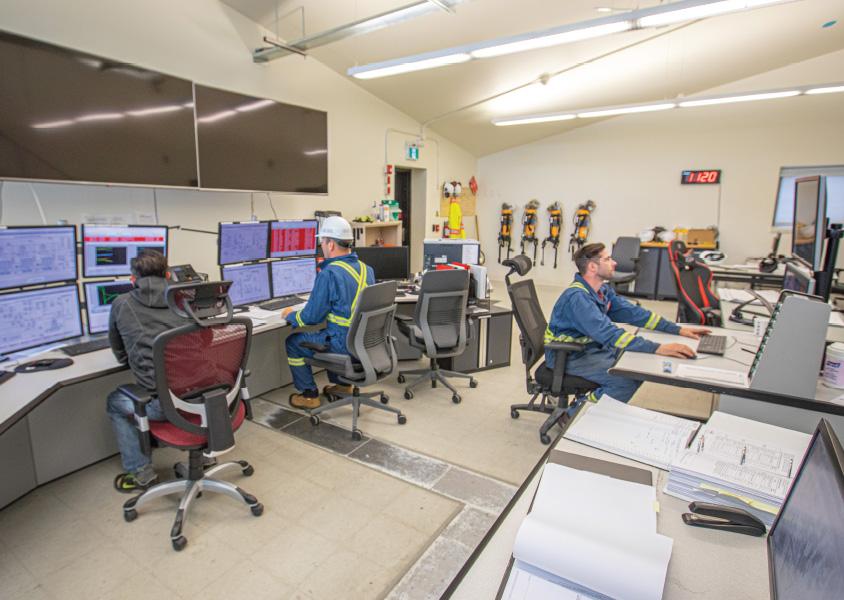 The Tilbury facility's role in supplying gas in times of emergency is important but, first and foremost, it also has an important part to play in supplying gas during periods of peak natural gas demand—when that demand exceeds the ability for the existing infrastructure to bring energy into the Lower Mainland.
In 2022 the Tilbury facility was called on to send extra gas into the system—to return the energy system to a state of balance—10 times during the winter months. This is twice as often as the year before, and five times as often as in 2015. "We've had a couple of winters that were colder than normal, which increased demand for energy," says Andrew. "We may continue to see this variable weather in the future, so we need to be prepared."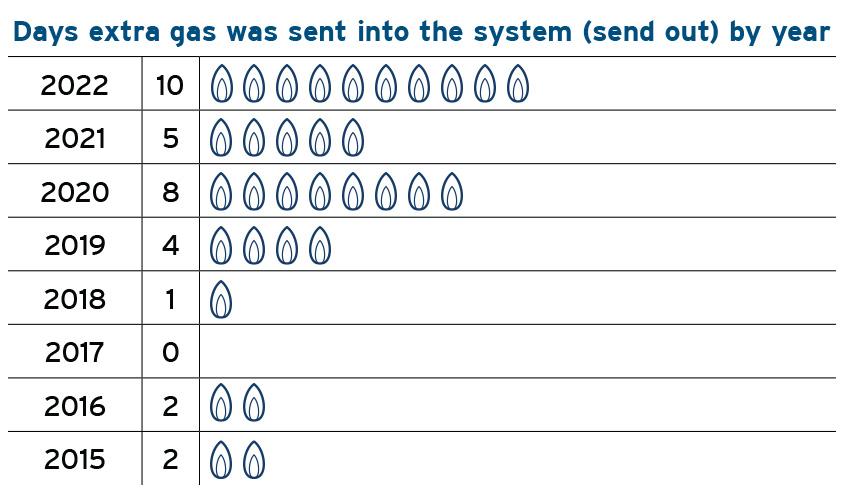 Brad Epps, operations manager for the Tilbury LNG facility, is part of the team responsible for conducting send-out when the call goes out to put additional gas into the system. "When we get the call to do send-out, it's usually in the middle of the night, and it's usually cold," he says. "It's also often a holiday like Christmas or New Year's. In fact, when my wife asks me 'What are we doing for Christmas, are you working?' I tell her we'll either be playing White Christmas, or I'll Be Home for Christmas, but not both, because chances are if it snows, I'll be needed to help with send-out."
Brad explains the send-out process: "It's a simple objective with a complex behind-the-scenes network making it happen. I like to compare the Tilbury storage tank to a thermos. When it's time to send gas out, we take that cold LNG stored in the tank, slowly heat it up until it turns back into a gas and then we push it into the pipeline. Our goal is to supply the needed gas within two hours of receiving the call."
The increase in number of send-out requests hasn't fazed the Tilbury team. "We see ourselves as first responders, not workers. We never know when the call is coming in but, when it does, we're always ready. It doesn't matter how many times in a year send-out is needed, we never miss a call," says Brad. "We know that we're an essential service. We're going to do whatever it takes to keep the heat on for our customers."