Surrey to Coquitlam natural gas line upgrades
We've upgraded the section of gas line between Surrey and Coquitlam to increase its capacity, keep up with growing demand and continue the safe and reliable delivery of natural gas to our customers.
This project involved creating a backup line that will run alongside the existing natural gas lines, in the same utility corridor, in both communities. Construction began in February 2017 and was finished by the end of the year. Site clean-up work will continue at a few locations in 2018.
Having a backup, or second, natural gas line means we'll be prepared to continue to meet our customers' natural gas needs, even as communities grow. We'll also be able to do routine "in-line" inspections, using state-of-the art equipment, to ensure the line's safety and reliability.
Surrey to Coquitlam route
See the Surrey to Coquitlam route where we upgraded our natural gas line project, through a route flyover video.
Coquitlam
We installed approximately five kilometres of new 36-inch natural gas line between our Cape Horn (2300 block of Rogers Avenue) and Coquitlam (Spuraway Avenue, near Mariner Way) stations.
Surrey
We installed approximately 5 km of new 36-inch natural gas line from our Nichol Station (9378-138a Street) to the south side of the Fraser River.
We also installed approximately 1.2 km of new 42-inch natural gas line between our Nichol and Roebuck stations (9081-132 Street).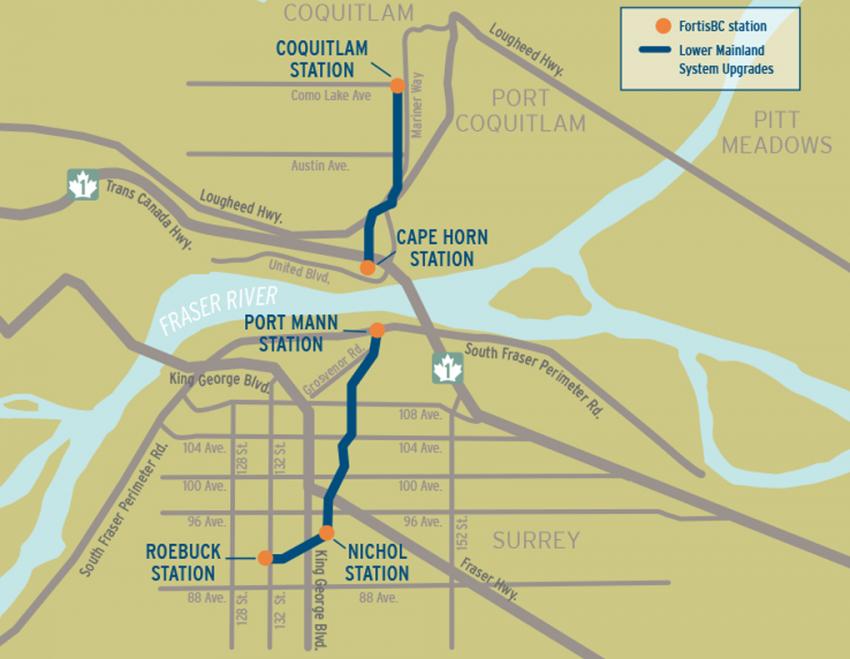 Traffic impacts
The Surrey to Coquitlam gas line essentially runs in a straight line, but the streets beside the gas line corridor don't, so a number of road crossings were necessary during construction. Now that construction is complete, our attention shifts to restoring landscaping. Traffic impact is expected to be minimal.
We encourage you to sign-up for our newsletter and follow us on Twitter @FortisBC for regular updates.
Construction methods
Open cut construction
The type of gas line construction most people are familiar with is open cut, also known as traditional trench construction, where an open trench is dug and the gas line is laid in the trench. Open cut construction is the most commonly used construction method because it's far less expensive than other methods, and is the simplest way to install a gas line. However, whenever road crossings are involved, the preferred method is some form of trenchless construction.
Trenchless construction
To learn more about the different types of construction methods used in the upgrade project, watch the videos and refer to the infographic for a summary of the various stages.
Safety first
Safety is our number one priority. We have rigorous plans in place to ensure the safety and security of the public, our natural gas system, the environment and our employees.
We have a comprehensive approach to safety, with regular inspections and maintenance. Our transmission and distribution pipeline system continues to have an excellent safety record, and we renew and upgrade our system in accordance with Canadian codes and standards.
Jobs and procurement opportunities
FortisBC wants to maximize the benefit of our projects in the community. Opportunities to create local jobs, opportunities for Indigenous communities and other local economic benefits always shape our approach to our projects.
If you're interested in providing goods or services for any of our current projects, or for future opportunities, please complete the contractors and vendors form.
Environmental management
We are committed to working in an ecologically sensitive manner and to the highest standards. Environmental consultants have been working with us at every stage of the project to help protect vegetation, fish and wildlife and their habitat. We developed a comprehensive environmental management plan and qualified professionals were on site to monitor work during construction.
Keeping you informed
Our commitment is to keep the public informed about the gas line replacement project every step of the way. For more than three years, we met with local landowners, businesses, Indigenous communities and municipal government representatives in both Surrey and Coquitlam to answer questions and address feedback.
We communicated directly with municipalities, business owners and residents affected by the project and provided opportunities to share feedback and ask questions throughout construction.
How the Surrey to Coquitlam Upgrade project is creating jobs and economic opportunities for BC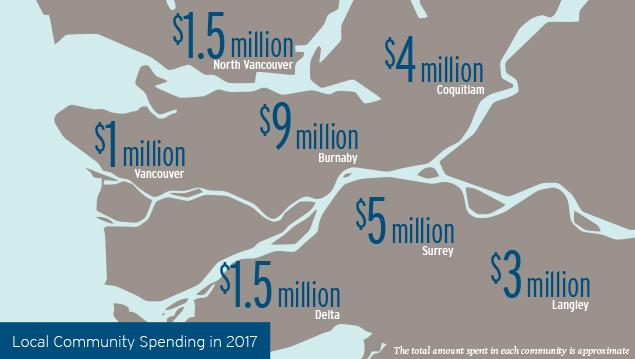 Vendors and suppliers from 12 local communities are working on the project including:
surveyors
borehole drillers
electrical consultants
traffic controllers
archaeological and environmental consultant
More than 6,000 hours of technical review and fieldwork was carried out on the project by local Indigenous businesses in areas of archaeology, environment and vegetation management.
Restoration work begins with the upgrade to our natural gas line from Surrey to Coquitlam nearing completion, our focus shifts to restoring  landscaping, and helping make sure landowners are happy with the results.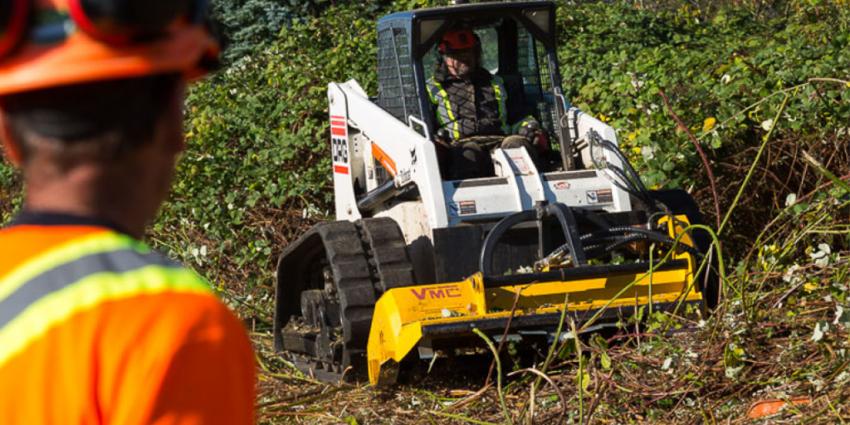 Clearing complete for project
Clearing the gas line right-of-way in preparation for the Surrey to Coquitlam natural gas line project began in September 2016. As with all of our projects, FortisBC wants local businesses and Indigenous communities to benefit from the economic and employment opportunities that this project will provide. 
Work site safety is a shared responsibility
FortisBC shares a common goal with Worley Parsons, the engineering, procurement and construction management firm we've retained for the Surrey to Coquitlam Natural Gas Pipeline Project: a commitment to ensure that at the end of the day, all workers remain injury free and go home safely to their families. 
Partnerships within Surrey and Coquitlam
As part of the Lower Mainland System Upgrades, we continue to raise awareness of the projects and strengthen partnerships that exist within the communities. In 2016, we invested in our local communities and provided sponsorships, including a Surrey Board of Trade event and the Coquitlam 125 Celebration community events.