Tilbury Phase 1 LNG Expansion project
We're proud to be operating the first ever liquefied natural gas (LNG) facility in British Columbia.
About this project
Our Tilbury LNG facility is powered by renewable hydroelectricity, creating safe, lower-carbon LNG since 1971. Originally, the facility's purpose was to store LNG to ensure our customers have the energy they need even during high winter demand.
Now, it's producing LNG for transportation including for BC Ferries and Seaspan Ferries. As the demand for LNG as a marine fuel grows, we are also working with the Vancouver Fraser Port Authority to develop the first ship-to-ship LNG marine refuelling service on the west coast of North America. Our facility is also the first in Canada to produce LNG for export to China.
Current expansion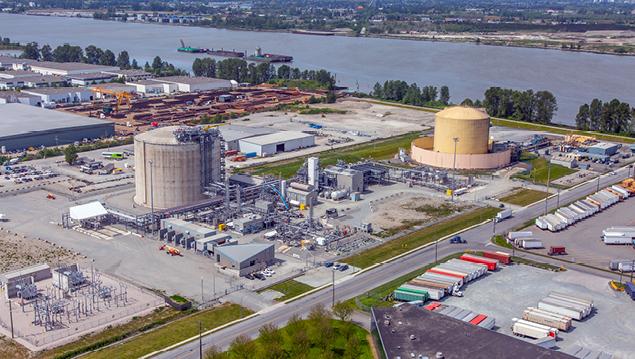 In 2018, we commissioned Phase 1 of an expansion to our facility including:
a 46,000 cubic metre storage tank, enough to keep a community of 19,000 warm for 45 very cold days
liquefaction capacity of 0.25 million tonnes of LNG per year
We're continuing to expand our facility including: 
up to 0.65 million tonnes of liquefaction capacity to meet rising demand for LNG as a marine fuel
a one-to-three-kilometre gas line upgrade from our facility to the Tilbury gate station on River Road in Delta
Next steps
The additional liquefaction capacity is in an early planning phase. Construction could begin as early as 2024.
The gas line upgrade is in the early planning and design stages. We're exploring a number of route options and we'll be engaging with the community on the upgrade later this year.
The power line would connect a new substation at the Tilbury site with a BC Hydro substation in Ladner. We're working with the City of Delta and the Ministry of Transportation and Infrastructure on a route that minimizes potential impact to private land. We're planning to engage with the community later this year.
Construction of Phase 1 could be complete as early as 2028.
Creating jobs and economic opportunities
The expansion of our Tilbury LNG facility in Delta is providing significant economic and employment benefits for the people of Delta, neighbouring communities and Indigenous communities. This includes more than $148 million in spending with BC suppliers.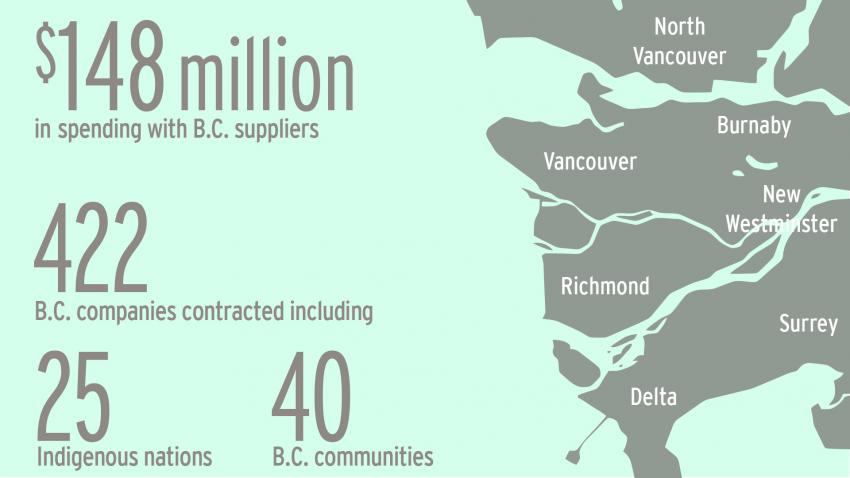 Reducing carbon emissions
Chinese industrial customers can reduce GHG emissions 30% to 50% if they switch from domestic sources of energy such as coal to LNG from Tilbury. Learn more about our analysis.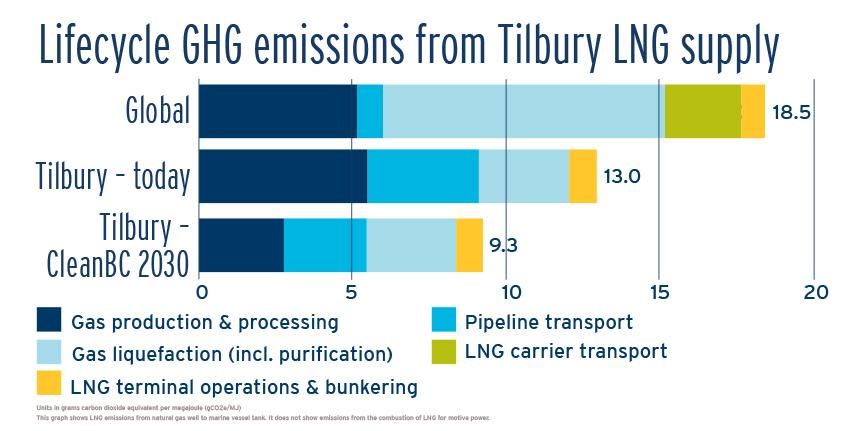 Tilbury through the years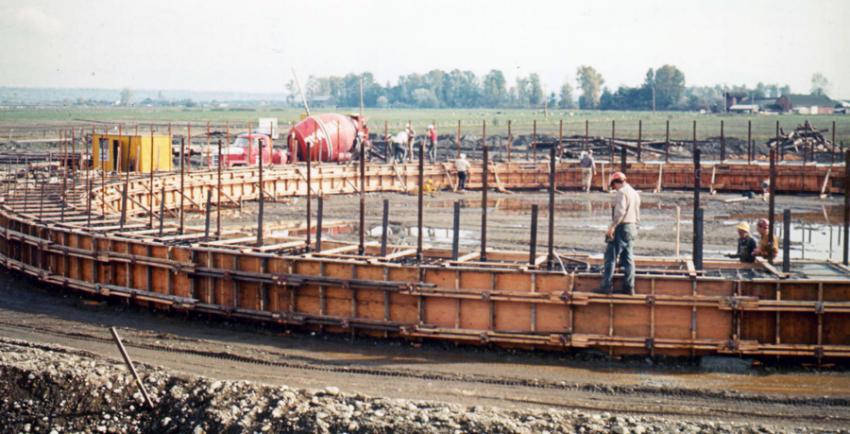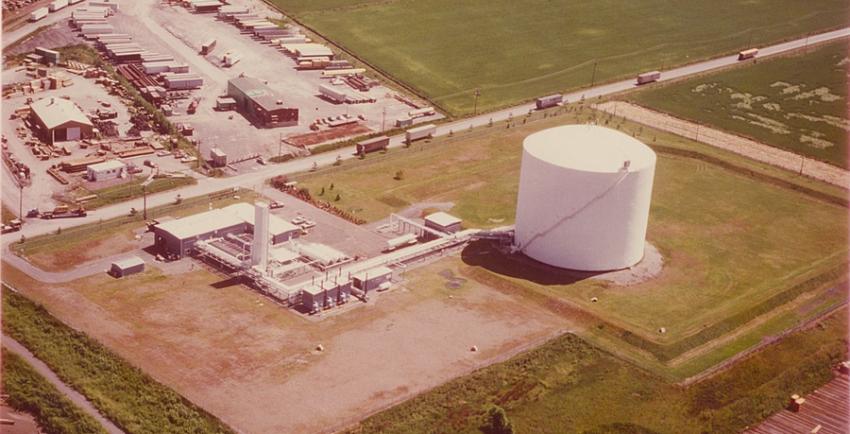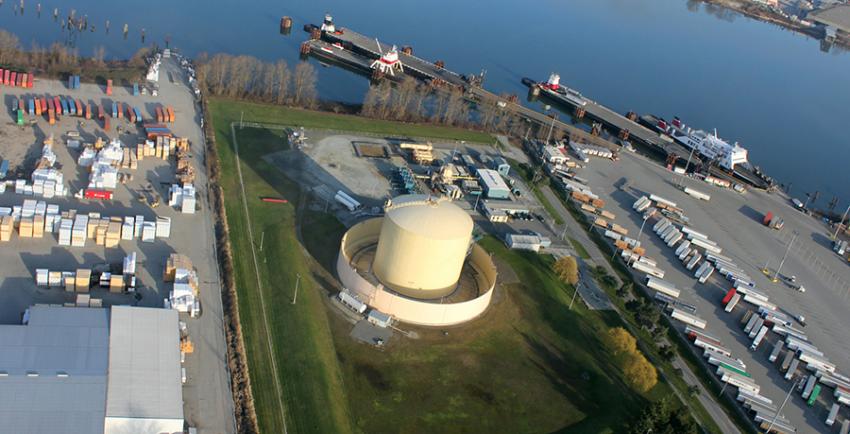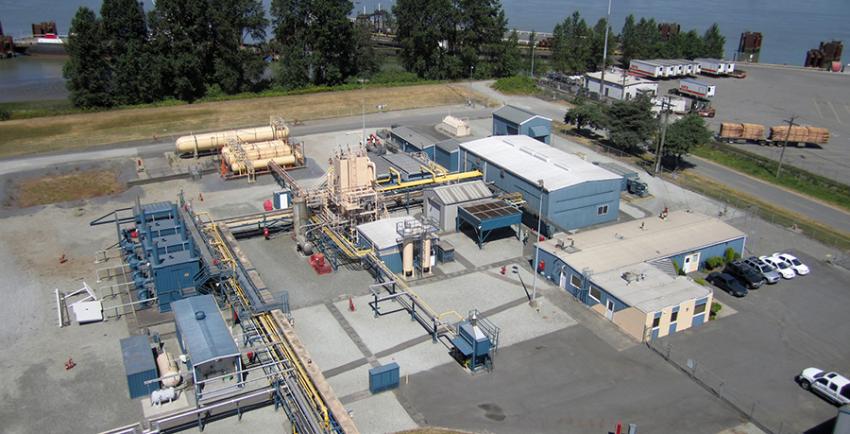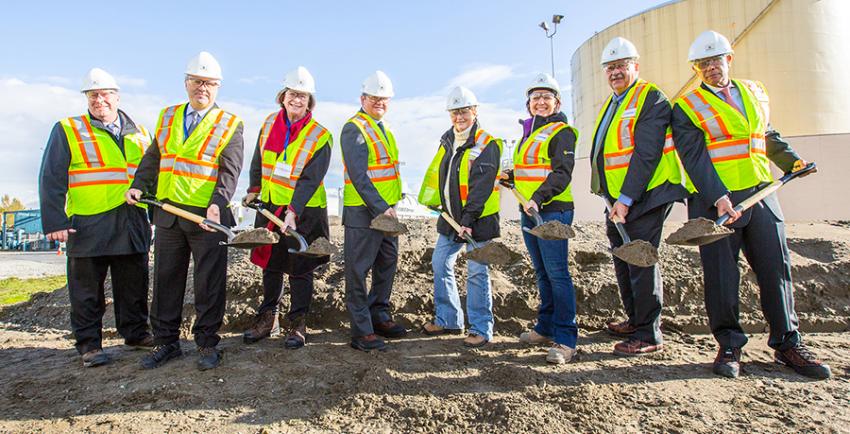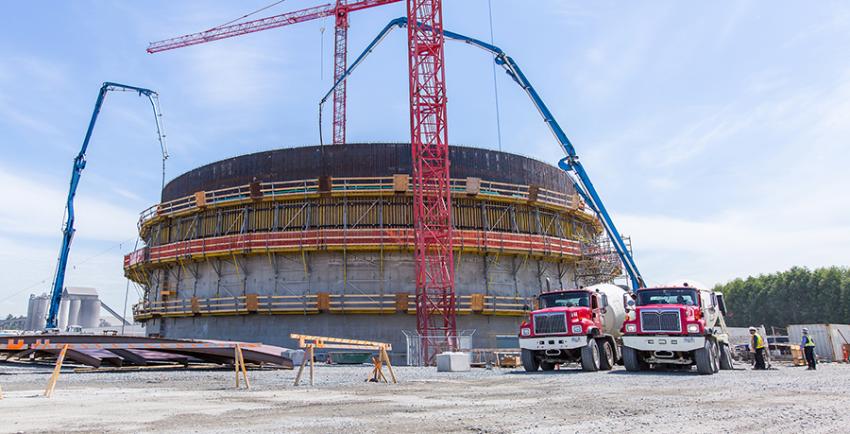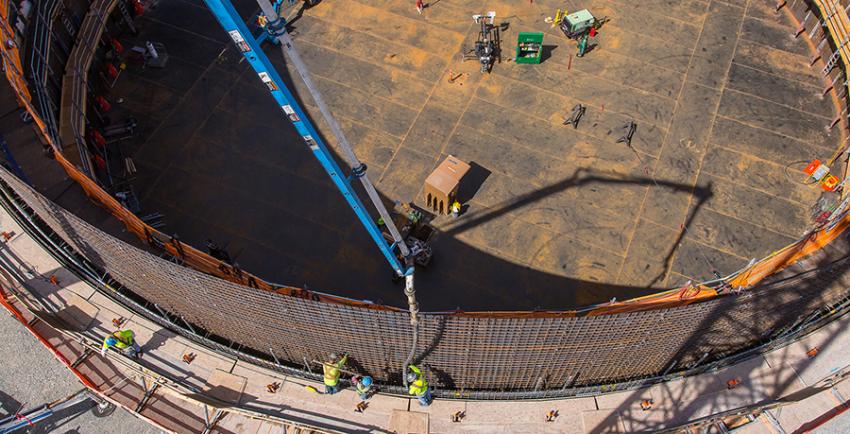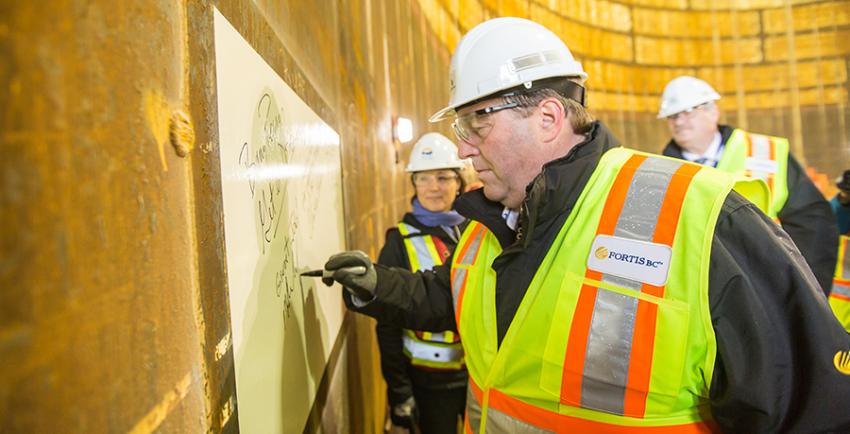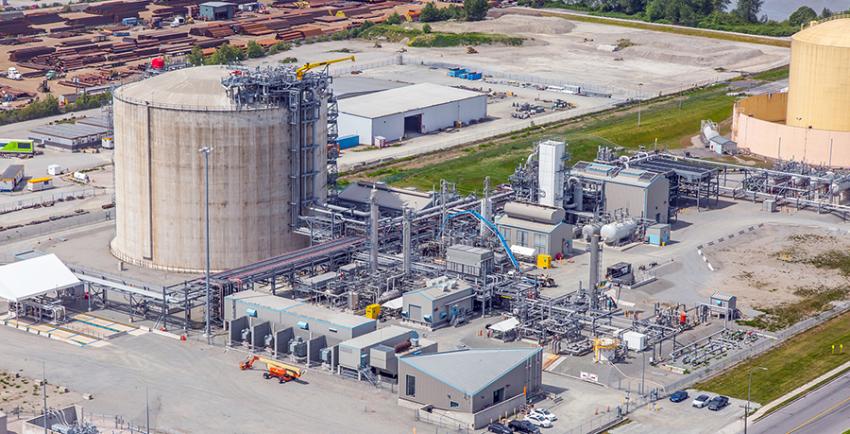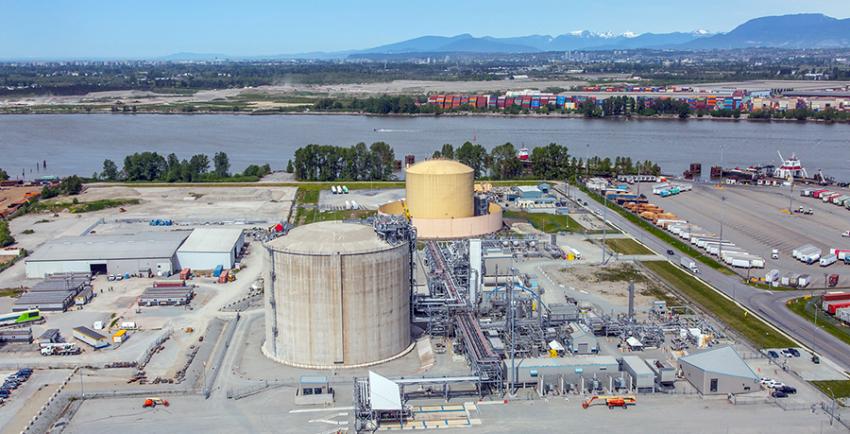 Nearby project
In addition to our Tilbury LNG Expansion project, other companies are advancing LNG locally.
Tilbury Pacific LNG jetty
The Tilbury Jetty Limited Partnership has filed an application for an environmental assessment certificate with the Environmental Assessment Office (EAO) of BC for a marine jetty next to FortisBC's Tilbury LNG storage facility that would allow the supply of LNG to vessels for ship-to-ship LNG bunkering and for bulk delivery to overseas markets. The project is now with provincial and federal decision-makers. For more information, visit tilburypacific.ca.
Will the Project provide local jobs and other economic benefits?
The Tilbury Expansion project will create employment and contracting opportunities during planning and construction, and long-term jobs once construction is complete. We are committed to creating jobs for local workers through education and training programs, as well as direct and indirect opportunities.
The project's economic benefits will be distributed throughout BC – not only in the LNG industry, but also to the industries that support it, including everything from manufacturing to engineering to professional services. Economic benefits will go beyond the Lower Mainland to the energy heartland in northeastern BC where gas is produced.
Answered on:
Feb 27, 2020
When will the Project be in service?
In 2018, we commissioned a new storage tank and liquefaction capacity at Tilbury. We're continuing to expand our facility including an additional expansion of liquefaction capacity that is scheduled to be in service as early as 2025.
Answered on:
Feb 27, 2020
What environmental benefits will the Project provide?
LNG is a clean burning fossil fuel that reduces greenhouse gas emissions (GHG) by replacing less efficient, less clean fuels such as diesel, coal and oil. LNG-powered ships can reduce GHG emissions by up to 27%. They can also reduce air pollution including nitrogen oxides by up to 95%, particulate matter by up to 99% and sulphur oxides to almost zero, compared to other marine fuels.
Answered on:
Feb 27, 2020
Who do we contact if we have more questions about the Project?
Answered on:
Feb 27, 2020
What is LNG and is it safe?
Liquefied natural gas is made from the same natural gas we use in our homes every day. To make it easier to transport by truck or ship, it is cooled to a liquid form. Within its double-walled insulated storage tank, LNG is maintained in liquid form, without air, and will not burn.
FortisBC's Tilbury LNG facility has been operating safely since 1971.
Answered on:
Feb 27, 2020
What happens if there is a leak?
LNG is made from the same natural gas we use in our homes and businesses every day. LNG is stored and transported at low pressure in double-walled tanks designed to keep it cold. The tanks are vapour tight, so air cannot get in and LNG cannot leak out. When stored in its double-walled tank, LNG cannot burn because there is no oxygen to react with.
In the unlikely event of a leak, LNG will warm up, rise and dissipate. If spilled, it will quickly warm up and revert to a gaseous state. LNG is flammable only in a narrow range (if the gas to air ratio is between five and 15 per cent). When ignited, LNG burns slowly with a lazy flame.
Answered on:
Feb 27, 2020
What safety measures will be in place?
The Tilbury LNG facility already has procedures and safety measures in place to prevent and manage emergencies. This includes complete on-site fire control and response systems independent of the fire department. The facility is also monitored 24/7 year-round by highly-trained site personnel who have been producing LNG for decades.
We also do regular emergency exercises with first responders to coordinate our response in the unlikely event of an emergency.
Answered on:
Feb 27, 2020
Could LNG have an impact on water or soil?
LNG is colourless, odourless, non-toxic and non-corrosive. In the unlikely event of a spill, LNG would warm up quickly, turn back into a gas and rise, leaving no residue. If spilled on water, it won't mix. It remains on the surface and vaporizes quickly.
Answered on:
Feb 27, 2020
Why are you expanding the Tilbury LNG facility?
FortisBC is already producing LNG for marine customers and for customers overseas. By expanding Tilbury's capacity, we can advance LNG as a lower-carbon alternative fuel to diesel or bunker oil for marine shipping. This expansion will allow us to produce more LNG to meet increasing demand and to support our Clean Growth Pathway to 2050.
Our facility is powered by renewable hydroelectricity, which means our Tilbury LNG has among the lowest carbon intensity in the world on a lifecycle basis.
LNG as a marine fuel can lower ship exhaust emissions of: Sulphur oxides (SOx) to almost zero, nitrogen oxides (NOx) by up to 95%, particulate matter (PM) by up to 99% depending on the engine used.
LNG from Tilbury can reduce greenhouse gas emissions by up to 27%.
Updated August 4, 2022
Answered on:
Feb 27, 2020
There are currently no events scheduled. Please check back again soon.
How we partner with local communities
FortisBC supports the communities where we live and work. A big part of that is providing support for local organizations and the great work they do in the community. Here are some of the organizations in the City of Delta we've supported recently.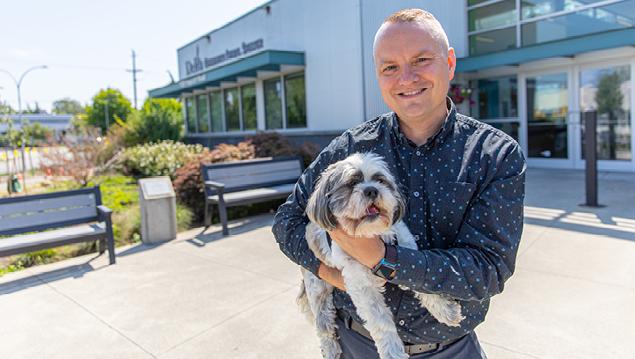 Delta Community Animal Shelter
Free seminars for animal lovers, children calmly reading books to purring cats, dogs frolicking in an off-leash fenced yard…no, this isn't a spa for pets. This is the Delta Community Animal Shelter, and it's changing perceptions of what an animal shelter can be.
FortisBC has been an ongoing sponsor of the shelter including providing funding for the opening of an agility centre and public off-leash area in 2019.
OWL (Orphaned Wildlife) Rehabilitation Centre
Of the 650 to 700 birds of prey that come through its door every year, OWL is able to successfully rehabilitate and release more than 50 per cent back into the wild. Others may be kept at the centre permanently to help with public outreach and education programs in schools, such as long time OWL resident Sonsie, a male bald eagle who is an "education ambassador" for the OWL Rehabilitation Centre.
The OWL Centre received a Community Giving contribution from FortisBC at the 2018 Union of BC Municipalities convention. The award allowed the centre to purchase more life-saving lead poisoning test kits for birds.
Reach Child and Youth Development Society
In 2016, FortisBC presented the Reach Child and Youth Development Society with $10,000 for their Building for Children Together project. This venture will see that a new child development centre is built to ensure children with disabilities and diverse abilities have a safe and accessible location for support.
In 2016, a donation was presented to the Rotary Club of Ladner, and will go towards a brand new water park located in Memorial Park. The upgrade is critical for this park due to safety issues, including an old concrete floor surface.
The water park is directly across from the new Reach Child Development Centre, and the families it supports will be frequent users of the park.
How the Tilbury LNG Expansion project is creating local jobs
The expansion of our Tilbury LNG facility is creating jobs and economic benefits for local and Indigenous tradespeople, with 1,700 tradespeople registered for work on the expansion project. 
Tom Sigurdson, former Executive Director, BC Building Trades, speaks about how the Tilbury LNG expansion project employs a high number of skilled trades. 
FortisBC is proud to work with the Tsawwassen First Nation (TFN) Construction/Matcon Civil Joint Venture, which provides civil construction site services for our Tilbury LNG facility expansion in Delta. In this video, Chris Hartman, CEO of Tsawwassen First Nation Economic Development Corporation, talks about how local and Indigenous tradespeople are benefiting from the expansion.
We're also supporting First Nations training and employment opportunities through:
25 work experience/employment training programs provided by TMJV, FortisBC's civil engineering contractor (majority owned by the Tsawwassen First Nation)
48 Tsawwassen First Nation students have participated in training programs
Interested in working on this project? Fill out our contractors and vendors form.
Apprenticeship program provides economic and employment opportunities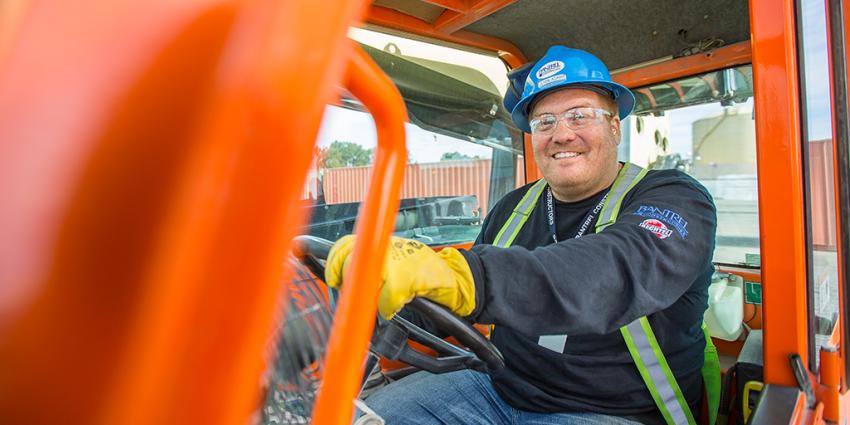 When Tsawwassen resident Clyde Adams was preparing to return to the Lower Mainland, he contacted the Tsawwassen First Nations Human Resources department to inquire about employment opportunities.  Adams knew they could help him connect with companies that reach out to First Nations communities when they're looking for workers. They suggested he contact Bantrel, the contractor responsible for FortisBC's Tilbury Phase 1 LNG Expansion Project. Read his story.
When I grow up, I want to be a scaffolder
Samantha Ethier never saw herself in the role, but she's an apprentice scaffolder on the Tilbury Phase 1 LNG Expansion Project, and loving it. She's always been athletic and willing to try new sports, so when her brother-in-law suggested she try scaffolding as a profession (he was a foreman with a scaffolding company) she accepted the challenge. Read her story.