Brymark has worked on the Vancouver to Coquitlam Gas Line Upgrades since construction started in 2018. They're responsible for building the gate stations at either end of the new gas line, as well as a number of pit stations along the route. These different stations help to regulate, and reduce, the amount of pressure of the natural gas in our lines, so gas can be safely distributed to homes and businesses.
Brymark project manager Taylor Smith says having a local job to work on is important to the company and to its workforce. "Ultimately, people want to work where they live," says Taylor. "Their preference is to go home to their families at night, as opposed to being out of town."
Close to 98 per cent of the skilled workers Brymark has hired for the project live within 100 kilometres of it.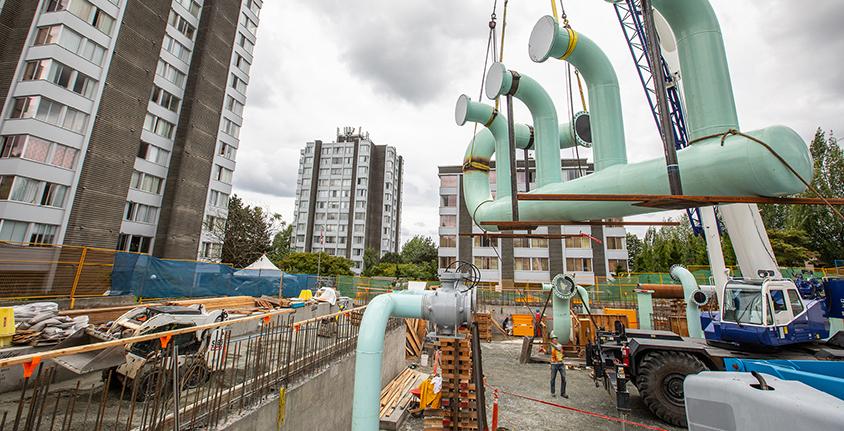 Among the jobs created by the upgrade project are a number of valuable training opportunities for apprentices. Of the 60 trades-people employed by Brymark on the FortisBC Gas Line Upgrades project last year, 11–or almost one in five–were apprentices.
"Providing apprentices with opportunities to learn their trade is key to the growth of our workforce," Taylor explains. "We're not just looking at them as apprentices, we see them as future foremen or superintendents—the people who will be leading the jobs in the future."
Maple Ridge resident Kyle Gillett is one of Brymark's pipefitter apprentices. Kyle appreciates the opportunity he's had to learn his trade close to home and work with skilled journeypersons who are generous with their time. "All the journeymen have been helping out quite a bit teaching me the proper ways of doing things safely," he says. "I've learned so much. They're training me on all aspects of pipefitting, from building in the fabrication shop to pipe installation out in the field."
Construction on the FortisBC Gas Line Upgrades project continues in Burnaby and Coquitlam in 2019. It's scheduled to be completed later this year, and will help make sure more than 210,000 Lower Mainland homes and businesses continue to receive the natural gas they count on every day.