FortisBC Gas Line Upgrades
Construction upgrading our gas line in Vancouver, Burnaby and Coquitlam is now complete. The new line was brought into service in December 2019 and is helping supply natural gas to more than 210,000 Lower Mainland homes and businesses. 
We want to thank communities along the route for their patience in 2018-19, as we worked to complete construction safely and as quickly as possible. The project involved installation of 20 kilometres of new 30-inch gas line, replacing a 20-inch line that had been in service for more than 60 years. 
We like to make sure we leave the areas where we work better than before construction started. That's why as part of this project we–among other things–added a splash of Italian colour to intersections along the iconic Commercial Drive and created buzz at the foot of Burnaby Mountain by planting a pollinator garden. 
In 2020, we expect to complete some final restoration work along the route as well as finish construction upgrading our facility at the intersection of Mariner Way and Spuraway Avenue in Coquitlam.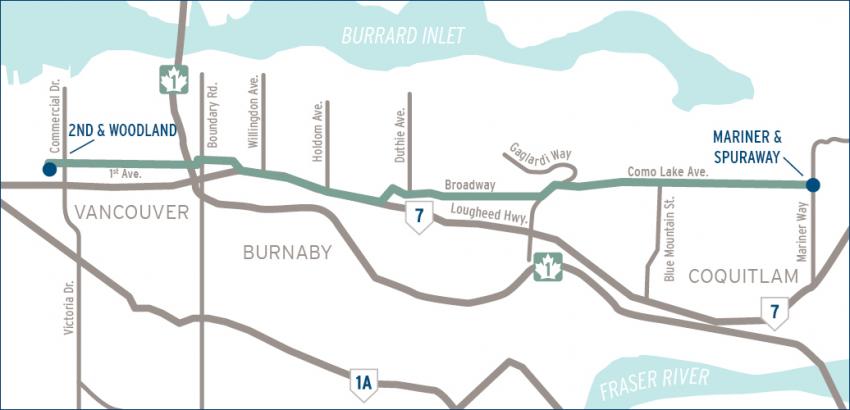 Construction route
Vancouver
Streets:
East 1st Avenue from our facility at 2nd Avenue and Woodland Drive to Boundary Road
Distance: 4km
Burnaby
Streets:
Boundary Road along Graveley Street to Douglas Road and down to Lougheed Highway
Lougheed Highway to Bainbridge Avenue and then along Broadway to Gaglardi Way and North Road
Distance: 10.5km
Coquitlam
Streets:
Como Lake Avenue from North Road to Spuraway Avenue, near Mariner Way
Distance: 5.5km
Thank you for your patience
We want to thank everyone for their patience as we completed these important safety upgrades. The route we chose allowed us to complete the project safely and as quickly as possible, with the least amount of impact possible to local residents and businesses, and to the environment.
We believe in working with communities, every step of the way. That's why, years before work began on our gas line upgrade, we started engaging with municipalities, businesses, residents and Indigenous communities throughout Vancouver, Burnaby and Coquitlam.
To help keep everyone informed about the project, we had more than 14,000 interactions with the community. We talked to thousands of people at project information sessions, neighbourhood coffee chats and business events. In 2018-19 we attended, and participated in, more than 100 local community events. We also posted frequent updates on social media and Talking Energy and hand delivered more than 7,000 local notification letters.
Supporting local businesses
We began building relationships with business owners along the route well before construction began. As work got underway, we stayed in touch and provided regular project updates.
We also worked with businesses on promotional opportunities to raise awareness that Vancouver, Burnaby and Coquitlam businesses were open during construction and ready to welcome customers.  
Investing in our local communities
Working together to build safe and caring neighbourhoods
In your community, Coquitlam
Before work started in Coquitlam in 2019, we were out and about talking to the community to inform everyone that work was about to begin, including hosting two information sessions where we talked to about 130 residents and business owners.
We participated in more than 40 events in Coquitlam during construction in 2018-19, giving us the opportunity to talk to more than 5,900 local community members. We also distributed more than 4,400 work notification letters to homes and businesses in Coquitlam and Burnaby in 2019 alone.
We worked directly with local businesses to find out how we could best support them, including maintaining access to stores and services during construction. For Como Lake Village, that meant keeping multiple parking lot accesses—including either Montrose Street, Linton Street or a left-hand turn from Como Lake Avenue–open at all times.
We also hosted a live radio event at the shopping centre in June to help promote businesses and let the community know that their favourite local stores were open and accessible during construction.
Safety is at the heart of everything we do. Our goal was to complete this project safely, and as quickly as possible. To help make that happen, we worked with the City of Coquitlam, residents and local schools to implement traffic calming measures such as additional police enforcement, speed readers and "local traffic only" signs.
In your community, Burnaby
At FortisBC, we believe serving the community is a privilege. As 10.5 kilometres of our gas line upgrade goes through Burnaby, we made it a priority to engage early with the municipality, residents and businesses.
After talking to the community, and hearing their feedback, we relocated the gas line from residential streets to Lougheed Highway and collaborated with businesses on promotional and networking opportunities.
We held grassroots community outreach events in Burnaby such as neighbourhood coffee chats and pop-up booths in local supermarkets and parks and presentations to community associations. In all, we had approximately 5,800 interactions with Burnaby residents and business owners.
The project provided us with opportunities to support local organizations, businesses and events across Burnaby, and in the process build a better community for everyone.
Examples of the more than 30 community and business events we supported in Burnaby include the Stoney Creek Environment Committee's Great Salmon Send-Off, the Giro di Burnaby and a Burnaby Board of Trade networking breakfast with the Premier.
In your community, Vancouver
The Commercial Drive neighbourhood is as well-known for its shopping and restaurant strip, as its vibrant community and Italian heritage. To show our appreciation to the community for its patience during the gas line upgrades along East 1st Avenue, we teamed up with the Commercial Drive Business Society to paint local crosswalks in the red, white and green of the Italian flag. The work was complete just in time for Italian Day celebrations.  
Our gas line upgrade was a big project and so was the community engagement to support it.
We talked to more than 2,600 people in Vancouver throughout the project and hosted, or participated in, almost 30 local community outreach events, including neighbourhood coffee chats, pop-up booths in local supermarkets and parks and presentations to community associations.
We sponsored Vancouver community events like Italian Day on Commercial Drive and Fresh Air Cinema outdoor movies at Grandview Park.
FortisBC also presented the Energy is Awesome child safety program to more than 400 elementary school students in East Vancouver. 
How this upgrade created jobs and economic opportunities for BC
We spent more than $74 million on goods and services with local businesses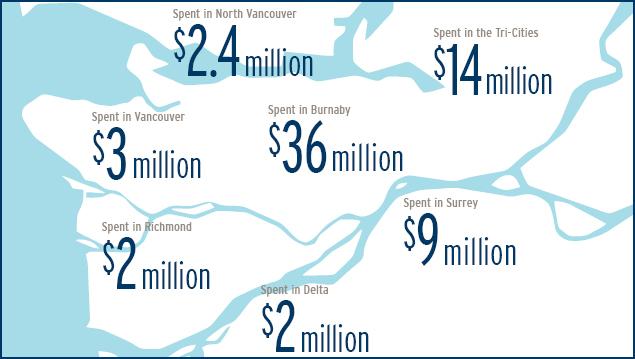 We want to maximize the benefits of our projects in the community. Approximately $74 million of project procurement spending went to local businesses between 2014 and 2019.
Approximately 350 local suppliers—including surveyors, environmental and archaeological experts, earthworks and shoring contractors and mechanical fabricators—were active on the project from 41 Lower Mainland and BC municipalities and Indigenous communities.  
With up to 375 people working on the project at times, it opened up opportunities for local workers, including for women in trades. One of the local companies that benefited from the creation of additional local skilled-trades jobs on the project was Brymark Installations Group, a general contractor based in Port Coquitlam. Almost 70 apprentices were also involved with the project.
We spent $4.2 million on services from 11 Indigenous-affiliated businesses, including environmental monitoring and equipment.  Almost one in five of those working on the project self-identified as Indigenous.
Jobs and procurement opportunities
One of our priorities is creating local jobs, opportunities for Indigenous communities and other local economic benefits.
If you're interested in providing goods or services for any of our current projects, or for future opportunities, please complete the contractors and vendors form.