With almost 50 years' experience in the Canadian geotechnical construction industry, Menard Canada has worked with a variety of clients in industrial, oil and gas, mining and government sectors, among others. While Menard Canada is part of the international civil engineering and contract firm Soletanche Freyssinet, the local company believes one of the best ways to get a job done well is to hire from the community they're working in.
"Menard Canada is a unique company," explains Gilles Costa, director west division of Menard Canada. "In our Richmond office, our core staff are local people. Some are previous co-op students and graduates from the University of British Columbia (UBC) and British Columbia Institute of Technology (BCIT)." 
FortisBC and Menard Canada have partnered twice on projects at the Tilbury LNG facility: first in 2015 on the facility's storage expansion project and again in 2018 on the Fraser River dike upgrades. 
According to David Zarchikoff, project manager with Menard Canada, Lower Mainland clients like FortisBC benefit from the local knowledge and experience of the Richmond-based team. "We find it's important and useful to be from the place where we work," said David. "We know specific issues with different local worksites and have developed strategies for handling them." 
On the 2018 Tilbury Island Dike Upgrades, David's team developed and constructed a geotechnical solution to address earthquake-related issues on Tilbury Island. "Our challenge was to ensure that, if a strong earthquake hit, there wouldn't be an issue with the Fraser River overrunning the banks into the Tilbury facility," said David. The team drew on their collective knowledge and expertise in the region, bringing a custom solution to FortisBC's project. "We installed a series of stone columns in the ground to solve this challenge."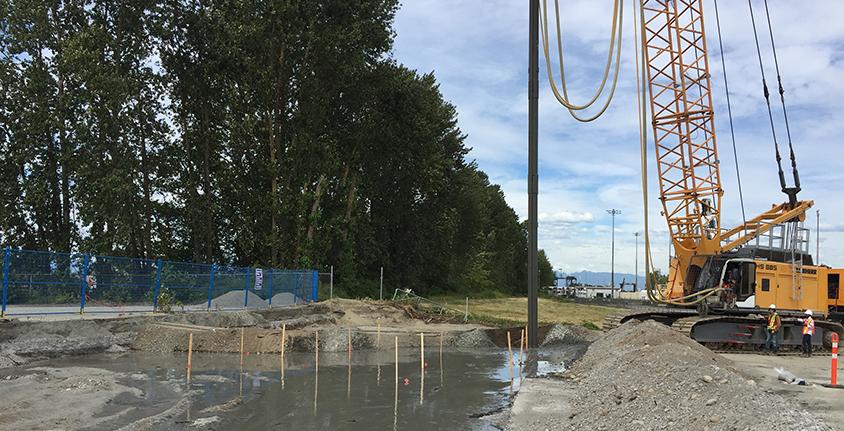 Menard Canada also uses local suppliers on their jobs, putting money and business into the local community whenever possible. "We support the businesses where we work," said David. "When we work on a project like Tilbury, we rent trailers and equipment from the local suppliers. We cater lunches from the local restaurants. We clean our operators' clothes at the local laundromats."
Menard Canada finds its "go local" approach benefits everyone involved in projects and in the local community. "Our staff may have different origins and different backgrounds – but most are Canadians who grew up in BC," said Gilles. "Few things make me happier than knowing we work with and support the communities we work and live in."
The expansion of our Tilbury LNG facility is providing significant economic and employment benefits for the people of Richmond, neighbouring communities and Indigenous communities. We've worked with approximately 40 Richmond businesses, including Menard Canada, with total spending of more than $16.5 million. Future expansion will continue to prioritize hiring local. 
Learn more about the Tilbury Phase 2 Expansion and apply to become a supplier or vendor for the project.