Driven by new International Maritime Organization (IMO) regulations to cap sulphur emissions worldwide starting in 2020, shipping companies are now faced with a choice of how to meet these stringent standards. Many are opting for vessels that run on liquefied natural gas (LNG), which reduces greenhouse gas (GHG) emissions and other air pollutants compared to traditional marine fuel, while also lowering sulphur emissions.
For many years, ships have been fuelled by inexpensive, low quality oil. Traditionally ships use heavy (or bunker) fuel oil, which is the residue leftover from the refining process. This makes it a cheap fuel, but also a very dirty one. It has higher concentrations of harmful compounds than the crude oil it's made from resulting in higher GHG emissions and air pollutants.
In BC, marine vessels that arrive from other countries emit an estimated 70 million tonnes of CO2 equivalent per year, which is more than the emissions of the entire province combined. Globally, the IMO estimates that international shipping emitted 796 million tonnes of CO2 in 2012, that is, about 2.2 per cent of the total global CO2 emissions for that year and greater than Canada's total emissions for the same year. These emissions are not counted against BC's or Canada's total emissions.
These ships also emit sulphur oxides, nitrogen oxides, particulate matter and other smog forming chemicals into the local airshed, which can have direct impacts on the environment and local residents.
LNG, however, represents a significant opportunity for the marine industry to embark on a lower emissions future that would significantly reduce emissions in BC now and support the province's lower carbon economy. LNG reduces sulphur oxide emissions to almost zero and nitrogen oxide by up to 95 per cent versus bunker fuel oil and GHG emissions by 19 percent.
More than 3,000 foreign vessels arrive at the Port of Vancouver each year. Converting just one container ship or cruise ship from marine fuel to LNG would be the equivalent of removing the combined GHG emissions of about 19,800 vehicles off the road each year.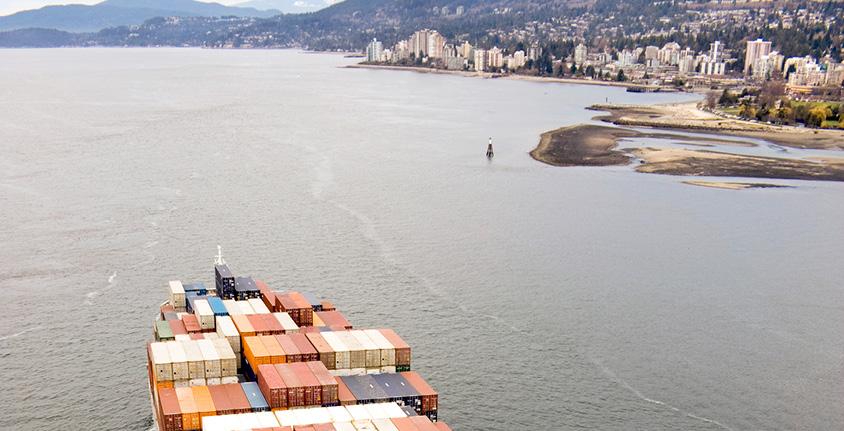 Around the world there are 159 vessels that are powered by LNG with another 145 on order. This is a fraction of the vessels in operation around the world, according to international shipping registrar DNV GL, but the number is growing rapidly. The world is also moving to support those vessels with European Union countries obligated to build LNG bunkering facilities at all major maritime and in-land ports by 2025.
As one of North America's busiest ports there is a strong opportunity for Vancouver to position itself as a leading hub for LNG-fuelled shipping. FortisBC estimates that marine bunkering demand could increase BC's natural gas consumption at least 17 per cent by 2030.
BC has had good early success with marine bunkering. FortisBC has been fuelling BC Ferries and Seaspan Ferries through a world-first truck-to-ship bunkering system, and last year achieved the 1,000th bunkering milestone. However, for Vancouver to succeed in fuelling this new generation of LNG powered vessels, it needs to build the infrastructure to support these vessels.
Enter the Tilbury Pacific Marine Jetty on the Fraser River. The jetty, located next to FortisBC's Tilbury LNG facility, would facilitate ship-to-ship LNG bunkering.
Tilbury Pacific is well-located to fuel the marine industry. LNG from FortisBC's adjacent Tilbury facility will be supplied to Tilbury Pacific customers through an LNG line. The project is also situated on the site of a former sawmill on the Fraser River and is accessible along established shipping routes.
After years of planning, consulting with the community and refining the design, the jetty project is engaged in an environmental assessment process.
The Vancouver Fraser Port Authority, is also working with stakeholders to facilitate the development of an LNG bunkering hub. In March 2019, the VFPA joined SEA\LNG, the multi-sector industry coalition aiming to accelerate the widespread adoption of liquefied natural gas (LNG) as a marine fuel. They are the first North American Port to join the coalition.
These efforts are important as there is a narrow window of opportunity for Vancouver to establish itself as a LNG bunkering hub. Other jurisdictions including Tacoma are developing LNG fuelling and vessel fleet operators are booking their orders years in advance. LNG vessels also prefer to fuel once on a round-trip, which means the ports that enter the market first may have a significant advantage over later entrants.
BC has the natural gas reserves and the pipeline network in place to serve the energy needs of the global marine industry. What's needed now is investment in and support for infrastructure that encourages the efforts of the shipping industry to significantly reduce emissions. The opportunity is there for BC to grow its economy by supporting LNG fuelling in Vancouver. The challenge now is to finish ahead of the pack in the race to become one of the first ports to offer ship-to-ship LNG fuelling in the Pacific.