Whenever gas line work is required, it's standard practice in the industry for crews to take the necessary steps to safely prepare the line before work begins. That includes isolating the section of line requiring work with valves or other fittings, lowering the pressure in the isolated section, then venting the small amount of remaining gas to the atmosphere. ZEVAC machines make it possible for crews to capture that gas instead of venting it, helping companies perform both safe and environmentally friendly gas line work in the neighbourhoods they serve.
Initial FortisBC ZEVAC trial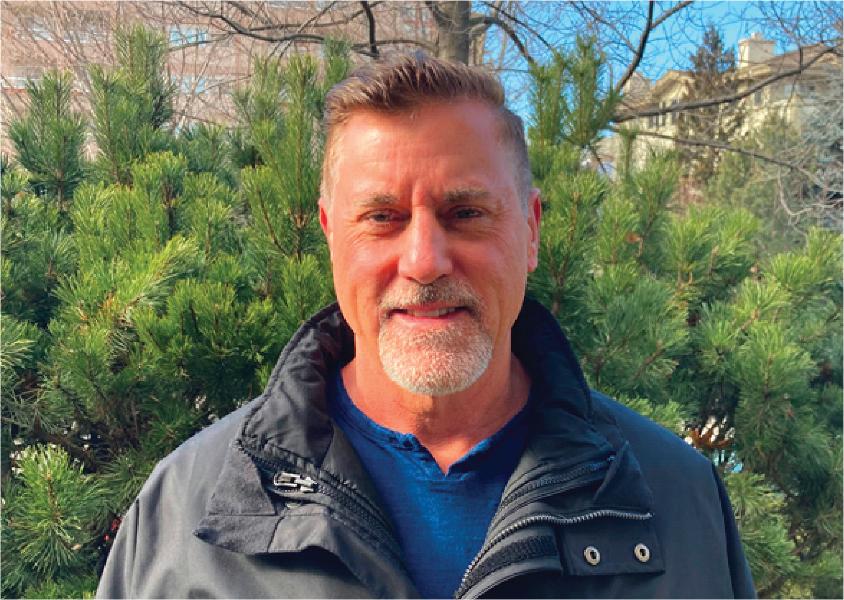 TPE Midstream, a gas line equipment company based in Tulsa, Oklahoma, created ZEVAC technology and launched it in 2016. ZEVAC is currently only in use within North America. 
Paul Kropp, operations manager for the Inland Gas Upgrades (IGU) project and 32-year FortisBC veteran, travelled to Seattle, Washington, to see ZEVAC in action, then arranged to bring a ZEVAC machine to Kamloops for a trial. "We conducted the trial on an upgrade of a 200-metre section of gas line," he says. "The ZEVAC machine essentially captured, or vacuumed, the gas within a section of gas line on one side of a valve fitting, then put it right back into the system on the other side so there was no loss of gas to the atmosphere."
Paul recognized the ZEVAC machine's potential to reduce emissions, and conserve product, on projects such as the IGU project, where crews must depressurize multiple shorter sections of gas line before conducting work on them. 
The IGU project involves making upgrades to 29 sections of existing gas line in communities in the Northern, Thompson-Okanagan, Cariboo and Kootenay regions of BC.  In many cases, these upgrades are being made to allow up-to-date in-line inspection equipment, or "pigs", to pass easily through the gas line to gather detailed information about the condition of the line. In addition to reducing emissions during upgrade work, the in-line inspection process itself is another opportunity for the ZEVAC machine to reduce emissions.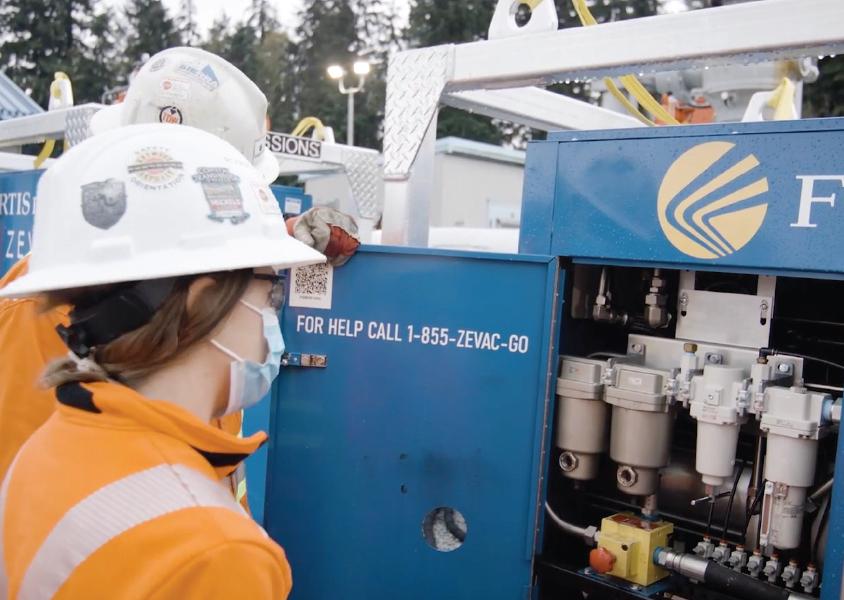 "When you want to conduct an in-line inspection, both the pig launching and receiving barrels need to be depressurized," says Paul. "The ZEVAC machine is able to capture the gas in those barrels in 10 minutes." Paul's team used ZEVAC machines for the remainder of 2020 and kept a daily log to track the emissions that the machines prevented from entering the atmosphere. The trial on the IGU project was so successful, FortisBC purchased five ZEVAC machines at the end of the year.
Achieving the 2021 CleanBC emissions reduction goal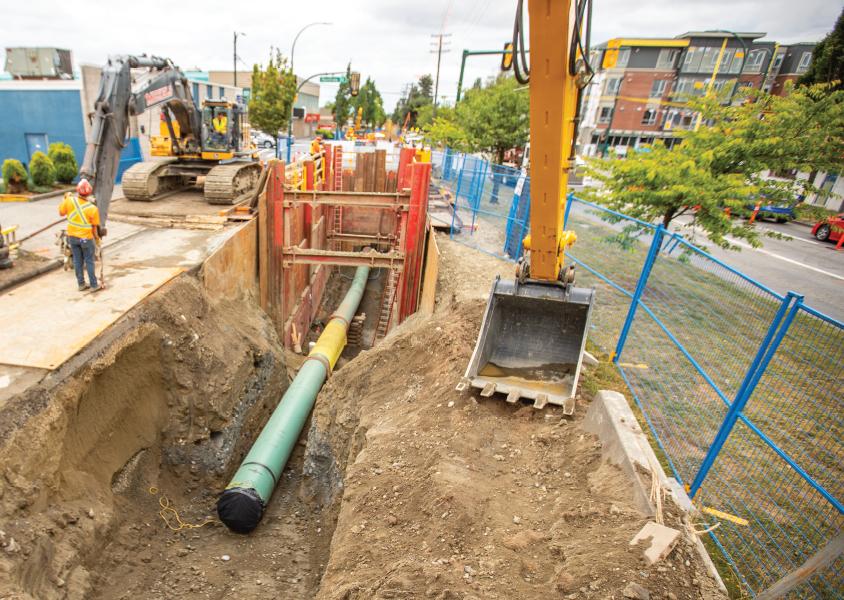 The ZEVAC machines FortisBC purchased were eligible for an Emissions Performance Grant through the CleanBC Industry Fund. The grant funded 50 per cent of the cost of the machines with a 10 per cent holdback pending proof that the emissions reduction target we declared on our grant application had been met by the end of 2021. 
Duane Mrak, a pipeline operations supervisor with FortisBC, leads teams that conduct maintenance work on gas lines in the Lower Mainland. His teams were among those to use the newly purchased ZEVAC machines throughout 2021. "Our gas line system in the Lower Mainland runs through congested urban settings," says Duane. "The environmental benefits of ZEVAC cannot be understated—it's a game changer. Since we're able to simply transfer our gas from one section of pipe to another, we're able to significantly lower our yearly operations emissions."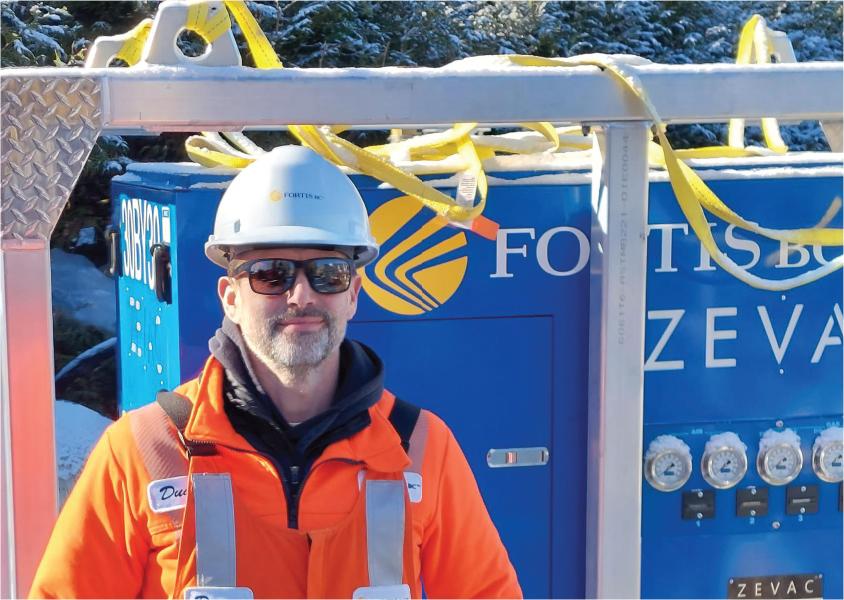 One of the projects Duane and his crew tackled in 2021 involved the degasification of a 22-kilometre section of 20-inch gas line that ran from Vancouver to Coquitlam. This gas line decommissioning work was necessary once the FortisBC Gas Line Upgrades project was complete, and the new 30-inch line that replaced the old 20-inch line was active. Duane's team also conducted the same work for a much smaller 300-metre section of gas line that was part of the Fraser Gate Upgrade in South Vancouver.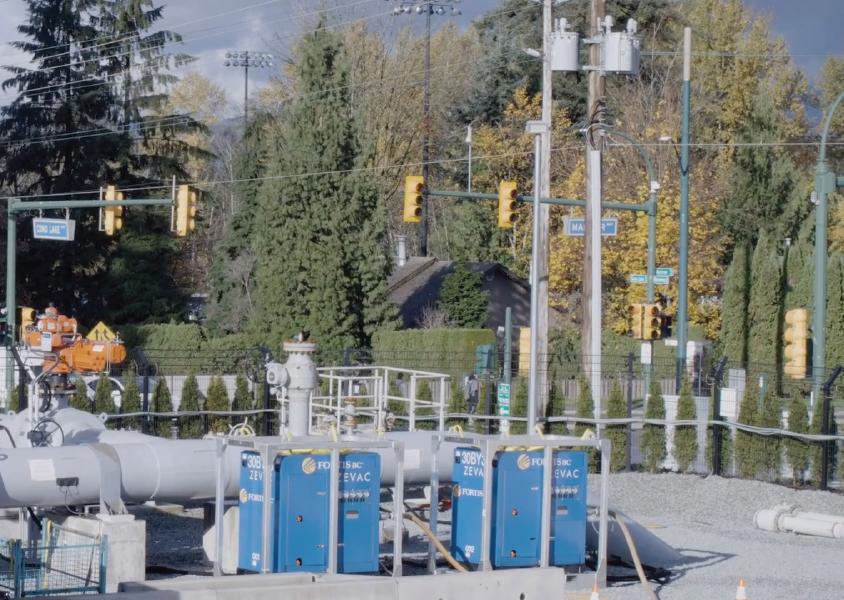 In addition to its environmental benefits, Duane also appreciates the operational flexibility ZEVAC provides in densely populated areas.
"Before ZEVAC, crews either needed to isolate longer sections of gas line to be able to vent gas safely away from urban areas, or work after hours to minimize public impacts," explains Duane.
"The ZEVAC machines give us more flexibility. We're able to isolate smaller sections of pipe on gas line projects, right at the worksite, or shut in longer sections between stations without worrying how much gas would be vented."
ZEVAC machines were also used throughout 2021 on gas line work spanning the coastal transmission system and for continued work on the IGU project in both Northern BC and Interior communities. Each project group tracked and recorded the emissions they captured. Together, they not only met the 2021 CleanBC target of 154,000 standard cubic metres of natural gas (SCM NG) saved, they surpassed it by 43,776 SCM NG. 
The future of ZEVAC at FortisBC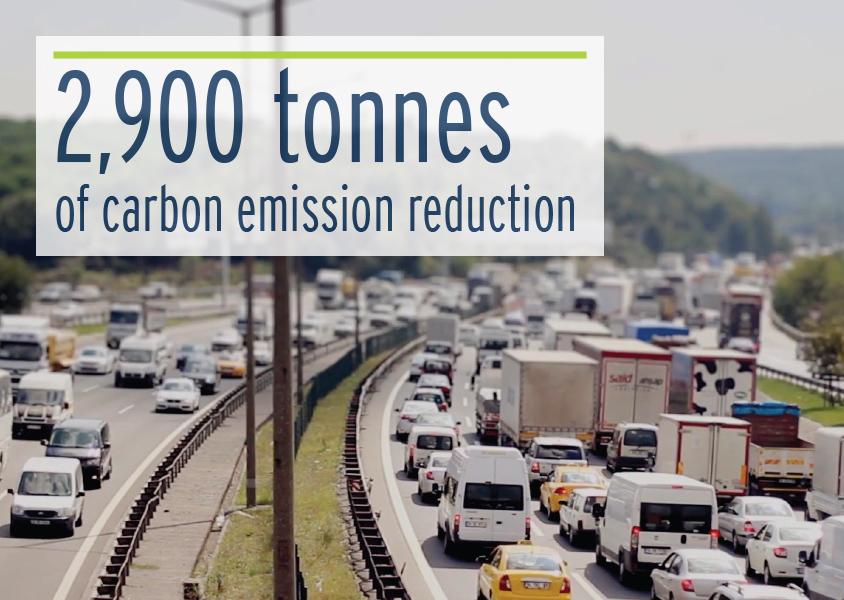 "Between the Coastal and Interior groups, we saved 198,000 SCM NG in 2021, which is the equivalent of about 2900 tonnes of carbon dioxide equivalent (tCO2e) emissions prevented from being released to the atmosphere," says Duane. "That compares to taking approximately 888 passenger vehicles off the road for a year."
Duane says exceeding the CleanBC target is just the beginning for ZEVAC at FortisBC. "We'll continue to track our emissions any time we use the ZEVAC machine," he says. "There will be ongoing opportunities to use the machines whenever we're conducting gas line maintenance, in-line inspections and gas line upgrade work around BC."