The Lower Mainland is a growing, thriving community. We provide natural gas to more than 700,000 customers within the region—and counting. That's why we're working on our natural gas infrastructure and planning for the future to ensure our customers have the energy they need, when they need it.
Construction on our Surrey to Coquitlam natural gas line upgrade is underway and will continue throughout 2017. Two main construction methods are used on the project: trenchless and traditional trench—or open cut—construction.
Some type of trenchless construction—digging an underground tunnel—is often used for road crossings, but approximately 80 per cent of the construction on this project will be accomplished by one method—open cut construction. Karen Coldham, our Surrey to Coquitlam project engineer, says it's by far the most commonly used method because it's fast, simple and effective.
When we plan our projects we think about where we'll be working and the best way to get the work done with the least amount of impact. We use the open cut method most of the time because it's so efficient—we're able to get in and out quickly, lessening the impact on those living nearby.
What is open cut construction?
Open cut construction means an open trench is dug and the natural gas line is lowered in. Karen oversees all engineering aspects of construction for both of the Lower Mainland System Upgrade projects—Surrey to Coquitlam and Vancouver to Coquitlam—and ensures everything is done to FortisBC standards. She says there are approximately eight steps to open cut construction.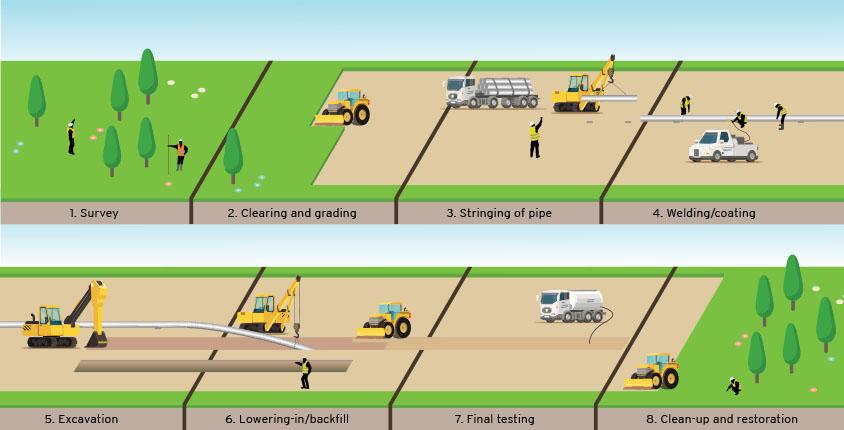 Done in sequence, Karen compares the flow of the open cut process to a moving train. "If construction was happening out in the middle of nowhere, in an open field, you'd see crews working one behind the other, completing the process step by step," she says.
Since the Surrey to Coquitlam project is in an urban area with a number of road crossings, the flow of the construction process is harder to see because you'll only see one step at a time. Karen explains, "It will look more like one piece of the train has reached the finish line before another piece gets started."
Minimizing construction impacts
Open cut construction won't be needed for many road crossings but whenever it's used, temporary lane closures will be required. "When a lane closure is necessary it may be closed for 24 to 48 hours, depending on the crossing, and only when equipment is on site," says Karen. "We'll have traffic control plans in place and flaggers to assist with equipment crossings."
Karen adds that plans are also in place to minimize other potential impacts for residents, including noise and dust. "All construction will abide by municipal noise bylaws. If dust becomes an issue during the dryer summer months, we'll spread water to lessen the impact," she says.