In our May newsletter, we introduced you to Crystal Lloyd, environmental program lead for our Vancouver to Coquitlam Upgrade project. As a registered professional biologist, she's responsible for overseeing the environmental management plans for our major projects and ensuring all aspects of the natural environment are protected.
Crystal talked to us about the sediment control measures that were put into place to protect water quality in the Silver Creek watershed after the first phase of pre-construction activities for the project were complete.
In the first phase, we cleared vegetation along our right of way, near the Burnaby Mountain Urban Trail. This work set the stage for the next phase of work we're about to do—extending three culverts in the Silver Creek watershed. We asked Crystal to tell us more about the culvert work and why it's necessary.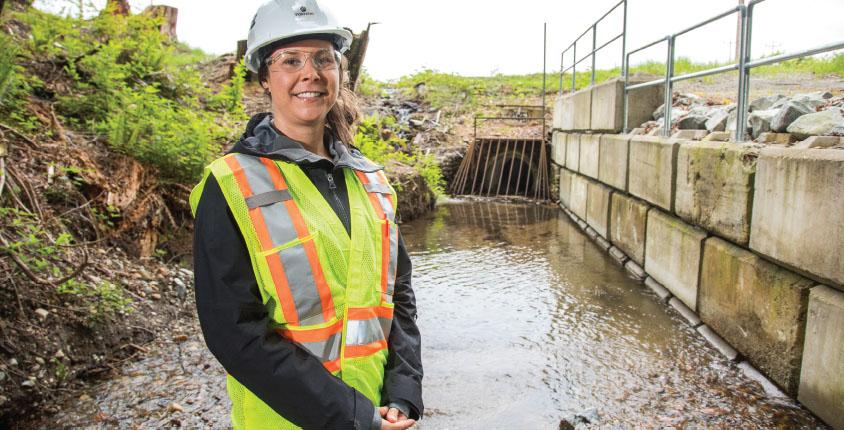 Crystal explains that well before pre-construction activities began on the upgrade project, plans were developed to protect wildlife, fish and fish habitat at every stage. "We're doing all the work within what we call the "fisheries window", she says. "The culvert work will be done within the six week window between August 1 and September 15. This is when we're least likely to disturb fish during their spawning period."
Environmental consultants continually monitor water quality both during and after pre-construction activities. "They'll be on site full-time during the culvert work making sure the sediment control strategies that are in place to protect water quality are doing their job," says Crystal.
When the culverts are extended, Crystal says it's an opportunity to make some improvements that will benefit downstream fish and fish habitat, wildlife and trail users.
"We'll be levelling and terracing stream banks to prevent soil erosion and replanting the area with native riparian vegetation to enhance wildlife habitat. Sections of streambed will be restored using boulders and cobbles, and woody debris along the shoreline will provide cover and habitat for small mammals.
For two-footed visitors to the area, plans to realign one of the trails will transform it from a path that gets mucky at certain times of the year to one that is cleaner and easier to navigate.  We're also removing invasive vegetation such as blackberry bushes and replanting with native species.
"When we're finished with the culvert work and gas main installation work, our goal is to restore the area to better than it was before," says Crystal.
The Burnaby Mountain Urban Trail will be closed between Underhill Avenue and Production Way from August 1 to October 15 while culvert work is underway. Visit the Vancouver to Coquitlam Upgrade project page for trail closure updates and to learn more about the project.
Construction on the Vancouver to Coquitlam natural gas line begins in 2018.