"I want to thank everyone for their patience during construction on our new gas line over the past two years," said Art Kanzaki, project director, FortisBC Gas Line Upgrades.
"It is a privilege to serve the communities that we live and work in, and we couldn't have completed this project without your patience and understanding. This new gas line will mean hundreds of thousands of local homes and businesses will continue to get the natural gas they count on to warm their homes and heat their water for decades to come."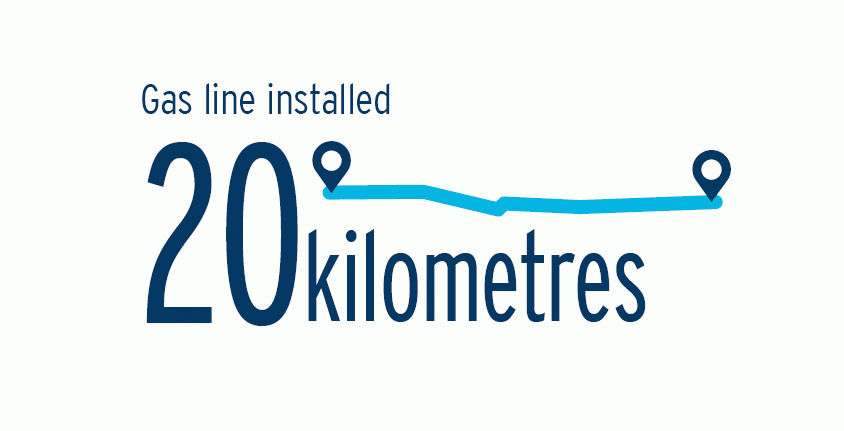 Our FortisBC Gas Line Upgrades project connects our upgraded facilities in Vancouver and Coquitlam, with a new gas line built along East 1st Avenue in Vancouver, Como Lake Avenue in Coquitlam, and Lougheed Highway and Broadway in Burnaby.
One of the largest urban infrastructure projects we've ever completed-the project boasted some pretty big numbers. 
FortisBC Gas Line Upgrades by the numbers
20 kilometres of new 30-inch gas line was built across three cities, replacing a 20-inch line built 60 years ago.
Construction took almost two years, and involved about 1,900 welds and more than 1 million construction hours. 
We supported and attended more than 90 community events in communities along the route, including the annual Great-Salmon Send-off in Burnaby, Oakdale's Neighbour Day in Coquitlam and the Giro di Burnaby cycling event. 
We engaged directly with more than 100 businesses along the route and had more than 14,000 interactions with the public throughout 2018-19 alone. This included hand-delivering 7,000 letters to homes and businesses, and answering 1,900 phone and email inquiries.
Community engagement started in February 2014, more than four years prior to  construction.
There were more than 350 people working on the project at times, creating opportunities for local skilled-trades jobs and women in trades.
Want to learn more about our project? Visit our FortisBC Gas Line Upgrades project page.