Tilbury Phase 1 LNG Expansion project
We're proud to be operating the first ever liquefied natural gas (LNG) facility in British Columbia.
About this project
Our Tilbury LNG facility is powered by renewable hydroelectricity, creating safe, lower-carbon LNG since 1971. Originally, the facility's purpose was to store LNG to ensure our customers have the energy they need even during high winter demand.
Now, it's producing LNG for transportation including for BC Ferries and Seaspan Ferries. As the demand for LNG as a marine fuel grows, we are also working with the Vancouver Fraser Port Authority to develop the first ship-to-ship LNG marine refuelling service on the west coast of North America. Our facility is also the first in Canada to produce LNG for export to China.
Current expansion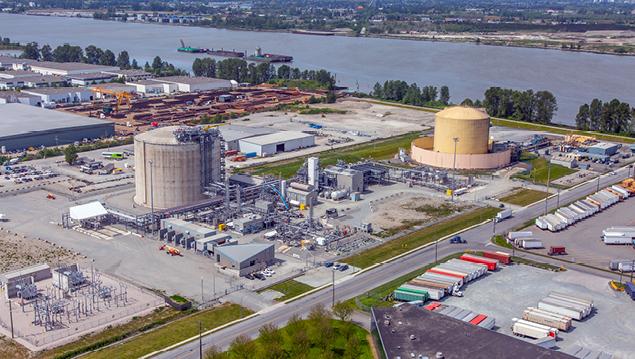 In 2018, we commissioned Phase 1 of an expansion to our facility including:
a 46,000 cubic metre storage tank, enough to keep a community of 19,000 warm for 45 very cold days
liquefaction capacity of 0.25 million tonnes of LNG per year
We're continuing to expand our facility including: 
up to 0.65 million tonnes of liquefaction capacity to meet rising demand for LNG as a marine fuel
a one-to-three-kilometre gas line upgrade from our facility to the Tilbury gate station on River Road in Delta
Next steps
The additional liquefaction capacity is in an early planning phase. Construction could begin as early as 2023.
The gas line upgrade is in the early planning and design stages. We're exploring a number of route options and we'll be engaging with the community on the upgrade later this year.
The power line would connect a new substation at the Tilbury site with a BC Hydro substation in Ladner. We're working with the City of Delta and the Ministry of Transportation and Infrastructure on a route that minimizes potential impact to private land. We're planning to engage with the community later this year.
Construction of Phase 1 could be complete as early as 2026.
Creating jobs and economic opportunities
The expansion of our Tilbury LNG facility in Delta is providing significant economic and employment benefits for the people of Delta, neighbouring communities and Indigenous communities. This includes more than $136 million in spending with BC suppliers.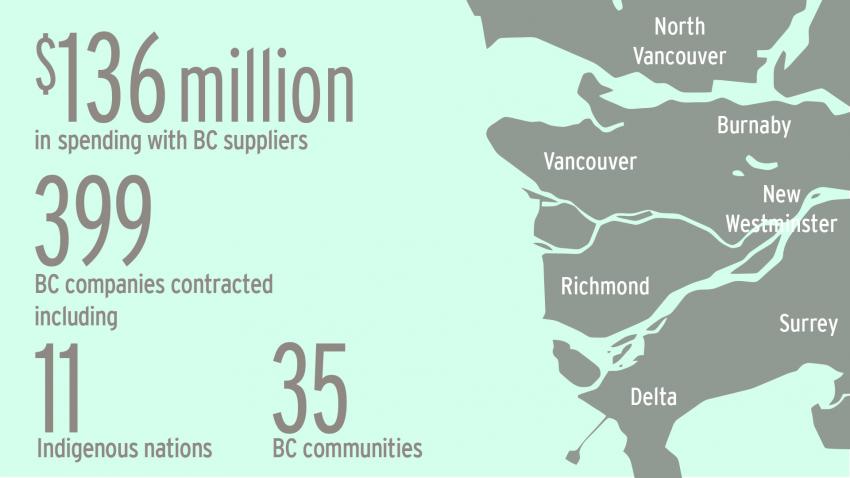 Reducing carbon emissions
Chinese industrial customers can reduce GHG emissions 30% to 50% if they switch from domestic sources of energy such as coal to LNG from Tilbury. Learn more about our analysis.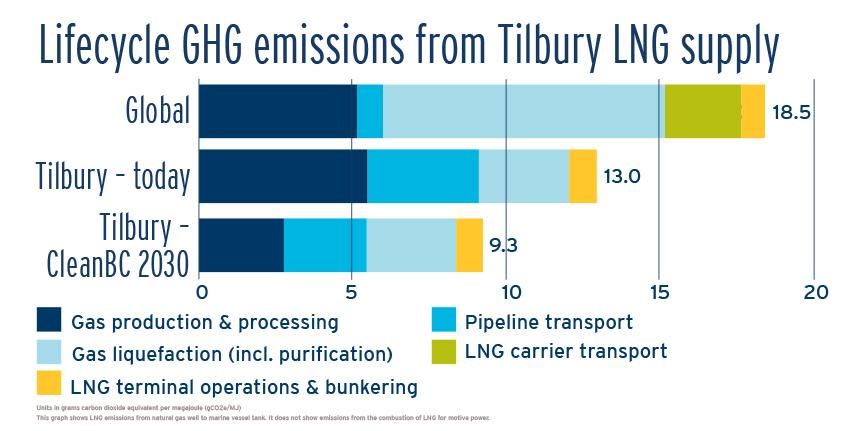 Tilbury through the years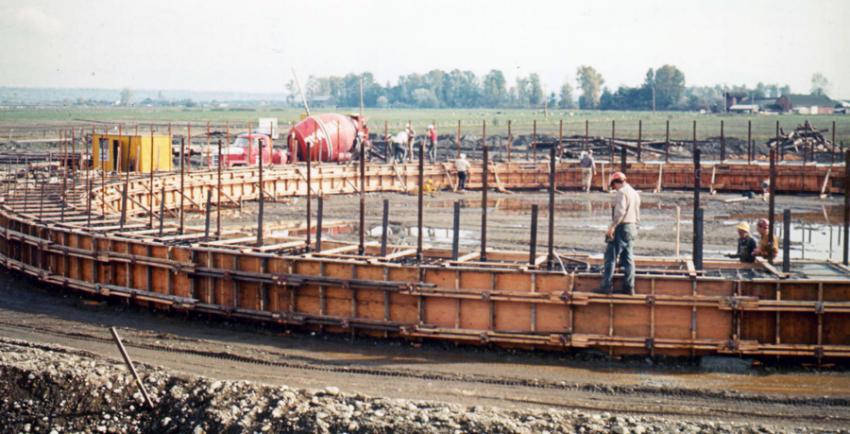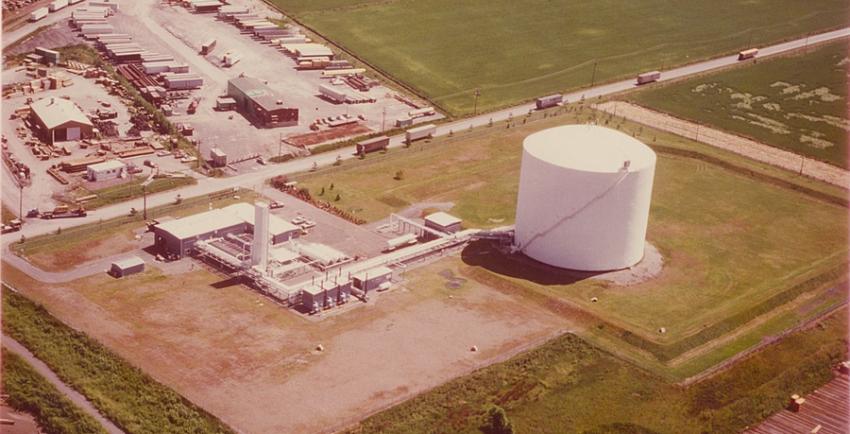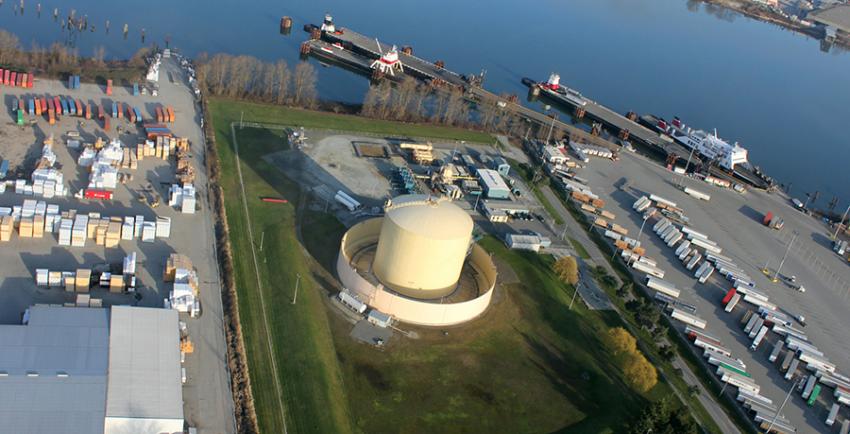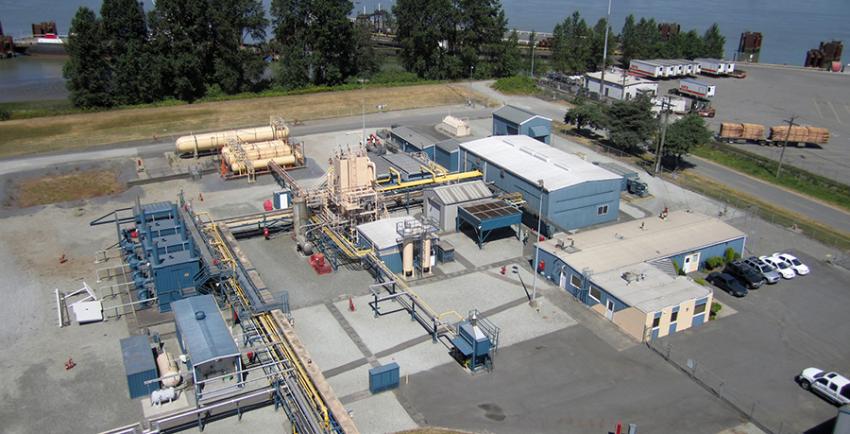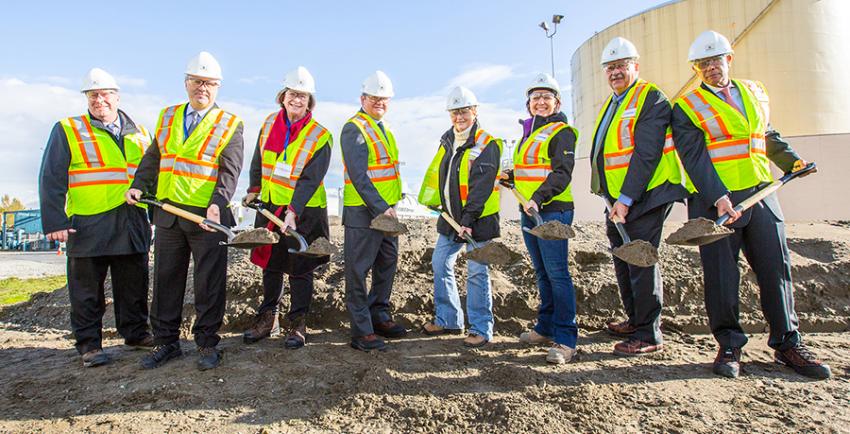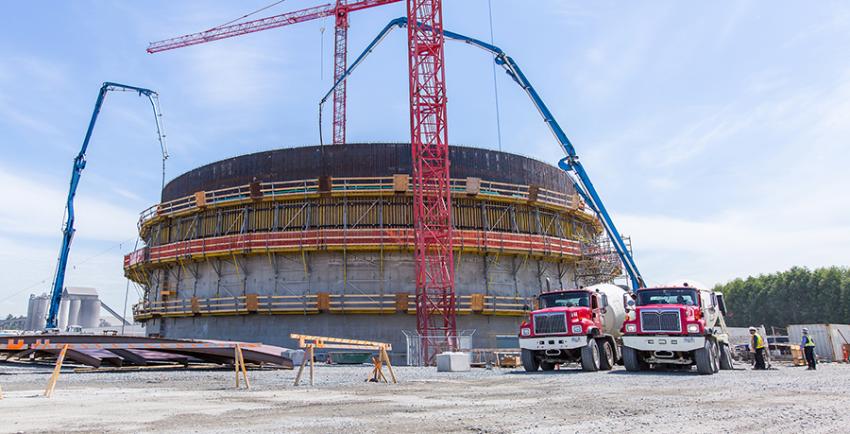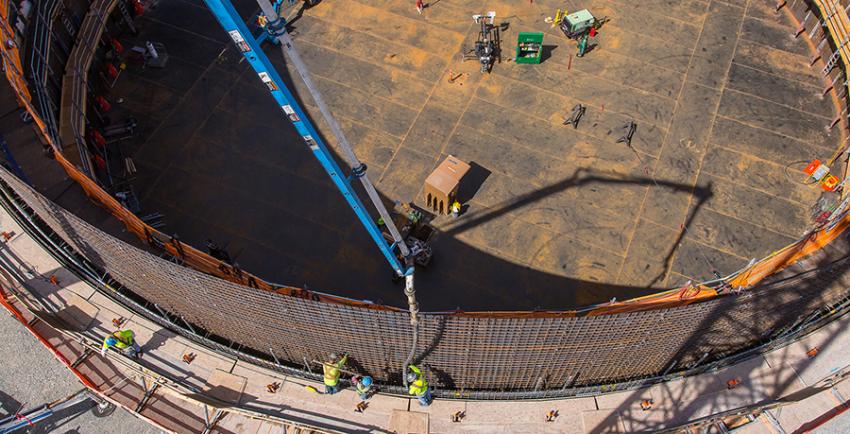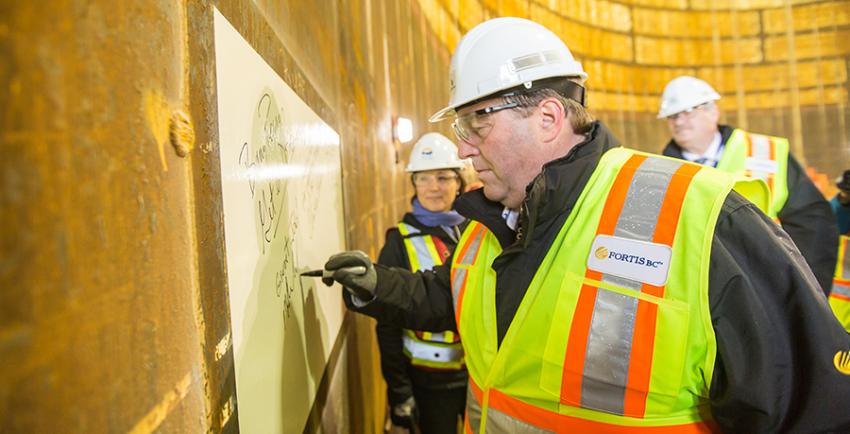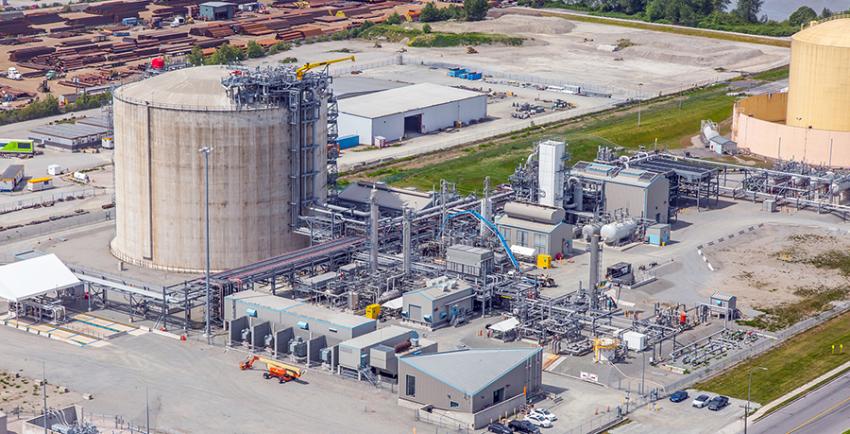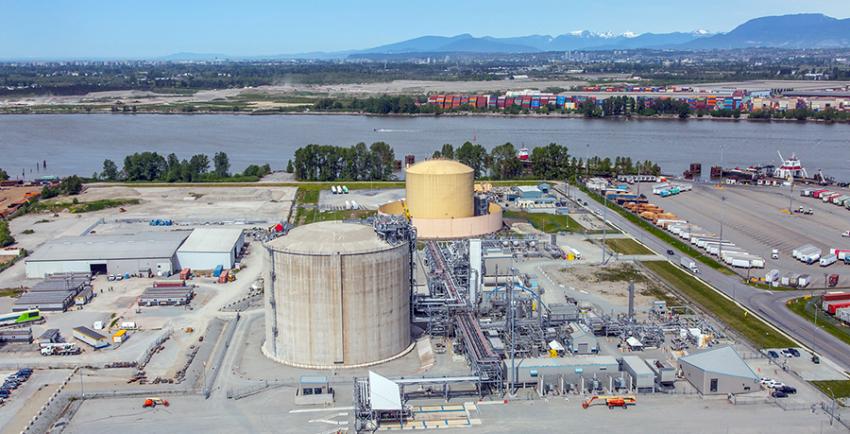 Nearby project
In addition to our Tilbury LNG Expansion project, other companies are advancing LNG locally.
Tilbury Pacific LNG jetty
The Tilbury Jetty Limited Partnership has filed an application for an environmental assessment certificate with the Environmental Assessment Office (EAO) of BC for a marine jetty next to FortisBC's Tilbury LNG storage facility that would allow the supply of LNG to vessels for ship-to-ship LNG bunkering and for bulk delivery to overseas markets. The project is now with provincial and federal decision-makers. For more information, visit tilburypacific.ca.
October 11, 2022
Tilbury Pacific LNG jetty
The Tilbury Jetty Limited Partnership has filed an application for an environmental assessment certificate with the Environmental Assessment Office (EAO) of BC for a marine jetty next to FortisBC's Tilbury LNG storage facility that would allow the supply of LNG to vessels for ship-to-ship LNG bunkering and for bulk delivery to overseas markets. The project is now with provincial and federal decision-makers. For more information, visit tilburypacific.ca.
August 10, 2022
Musqueam Indian Band and FortisBC Holdings Inc. sign Tilbury LNG Projects Agreement
Musqueam Indian Band and FortisBC Holdings Inc. are pleased to announce the Tilbury Projects Agreement, which includes options for Musqueam to acquire equity ownership in the proposed projects subject to regulatory approvals and other conditions . This includes the Tilbury LNG Storage Expansion Project and the Tilbury Marine Jetty Project. The equity options recognize the important relationship between FortisBC and Musqueam, and our shared desire to be true partners.
December 16, 2021
FortisBC applies to extend existing air quality permit
FortisBC has applied to Metro Vancouver to extend the existing air quality permit for the Tilbury LNG expansion facility, also known as Tilbury 1A.
LNG has been produced at Tilbury since 1971. The Tilbury LNG expansion facility has been operating safely since 2019 and FortisBC is applying to extend the facility's current air quality permit, which is set to expire in 2022. As part of the application, the company is proposing to decrease the levels of air emissions in its existing permit. The application does not cover any future expansion plans at the site.
The Tilbury LNG expansion facility is a key piece of FortisBC's gas system and produces liquefied natural gas (LNG) for use as a backup source of energy for our gas customers. It also produces LNG for customers in the trucking and marine transportation industries that are switching from higher carbon fuels like diesel.  
The Tilbury LNG expansion facility features technology to reduce emissions and is powered by BC's renewable hydroelectric supply. As a result, it is one of the cleanest facilities in the world and can produce LNG with a carbon intensity that is about 30 per cent lower than a global average LNG facility. 
To learn more about the facility and about the permitting process please join us at our upcoming virtual open house. For more information on the permit application please visit metrovancouver.org.
April 8, 2021
Air quality permit amendment approved
Metro Vancouver Regional District has approved FortisBC's application to amend its existing air quality permit for the Tilbury LNG expansion facility. The amendment will allow the facility to continue operations as designed to produce LNG with some of the lowest carbon intensity in the world for our customers.
December 17, 2020
FortisBC launches project to double LNG loading capacity at Tilbury
FortisBC announced today that it is proceeding with a new project at its Tilbury Liquefied Natural Gas (LNG) facility in Delta, British Columbia. The Tilbury Truck Loading Expansion project will involve the construction of two new loading bays to double the facility's capacity to provide customers with LNG.
August 13, 2020
FortisBC applies for air quality permit amendment
FortisBC has applied to the Metro Vancouver Regional District to amend its existing air quality permit for the Tilbury LNG expansion facility. The amendment would allow the facility to operate as it was designed by removing impurities such as sulphur compounds during production. The removal of impurities enables our facility to produce LNG with some of the lowest carbon intensity in the world.
The permitting process is now entering the 30-day public notification period during which the public can provide comments on the amendment to [email protected]. For more information, please visit metrovancouver.org.
July 16, 2019
FortisBC secures first export contract for Tilbury LNG
FortisBC has entered into its first term supply agreement to produce liquefied natural gas (LNG) for Top Speed Energy Corp. to export to China. This term supply agreement is an unprecedented development in Canada's LNG export industry and was made possible by the completion of the Tilbury LNG expansion project earlier this year.
The two-year agreement will see 53,000 tonnes of LNG a year or about 60 ISO containers (standard-sized shipping containers) a week shipped from Tilbury to China by the summer of 2021. The volume of LNG to be exported is equivalent to the volume necessary to heat more than 30,000 average BC households for a year.
May 31, 2019
Routine maintenance for Tilbury legacy facility
Starting as early as Saturday, June 1 our original Tilbury LNG facility will undergo some planned maintenance. 
To complete this work safely, we'll temporarily shut down a boil-off gas compressor, a piece of equipment used to regulate pressure within the LNG storage tank, for the duration of the maintenance schedule. 
We do not anticipate any off-site odour or noise as a result of this maintenance. 
For more information about our work at the facility, please call our project line: 855-576-7133.
May 22, 2019
Tilbury Expansion now in service
The first phase of our Tilbury LNG Expansion Project is now in service and producing LNG for our customers. As part of the expansion, we've added a new storage tank and additional LNG production equipment to meet the growing demand for LNG within the transportation sector and industry in BC. The Tilbury expansion is also supplying export shipments to China to help small-scale industrial customers switch to cleaner burning LNG from coal. Tilbury will also continue to store LNG, as it has since 1971, to ensure our BC. customers have the energy they need during the winter when they are using more gas to heat their homes.
March 21, 2019
Environmental assessment filed for proposed Tilbury Pacific LNG project
WesPac Midstream-Vancouver LLC's proposal to build the Tilbury Pacific LNG jetty on the Fraser River in Delta, BC. next to our Tilbury LNG storage facility, reached a new milestone today with the filing of an application for an environmental assessment certificate with the  Environmental Assessment Office of BC.
Tilbury Pacific would become a vital link in the West Coast LNG supply chain delivering low-emission fuel to a new generation of coastal and ocean-going shipping. It would also have the capability to supply bulk shipments of BC-produced LNG to customers across the Pacific.
The project is in the Application Review phase, which provides a forum for Indigenous communities, regulatory agencies, stakeholders and the general public to review and comment on the project. Visit tilburypacific.ca to stay informed about upcoming public information sessions.
December 14, 2017
BC companies making waves with Canada's first shipment of LNG to China
Early Thursday morning, after a journey of more than 9,000 kilometres, the first shipment of liquefied natural gas from Canada arrived in China.
A single ISO container of gas left FortisBC's Tilbury LNG storage facility in mid-November. Days later, it set sail through Burrard Inlet on its journey to its final destination in China on December 14. Although the shipment is small at about 17 tonnes or 950 gigajoules of gas, it's a turning point for BC's LNG industry. View the full blog story.
November 22, 2017
First shipment of LNG from Canada to China launches from BC
Canada's liquefied natural gas (LNG) export industry recently reached a milestone with the departure of its first shipment to China in a pilot project to determine long-term feasibility. LNG was supplied by FortisBC's Tilbury facility in Delta, logistics and equipment were provided by True North Energy Corporation and CIMC ENRIC Holdings Limited, and the cargo was shipped from Vancouver. Read the full news release.
August 20, 2017
Statement on incident at Tilbury expansion
At 10:25 a.m. on Saturday, August 19, FortisBC was notified of an incident at the site of our Tilbury plant expansion in Delta. The plant is currently undergoing commissioning. FortisBC responded, along with local fire and police departments.
Contractors conducting the commissioning reported a brief ignition from a refrigerant line, which was extinguished shortly thereafter. Fire detection and suppression equipment on site was activated and functioned as designed, containing the incident. Emergency response procedures were also activated and worked as planned.
One member of the contractor team on site was treated for injuries and released.
Safety is a priority for FortisBC. It's important to remember that this incident was limited to the refrigerant portion of the plant and did not pose a danger to anyone outside the plant. FortisBC looks forward to conducting this investigation with its contractor to ensure we understand the cause.
Existing operations at the original Tilbury plant, which has been in operation since 1971, were not impacted.
June 20, 2017
Updated local economic and employment benefits
As it approaches completion, the Tilbury LNG expansion project has provided a wide range of direct economic and employment benefits for the people of Delta and neighbouring communities. View an update on how the project is creating jobs and economic opportunities for BC.
March 3, 2017
Expansion of Tilbury LNG plant nearing completion
The Tilbury LNG expansion project is about 85 per cent complete with the target to be operating by the summer.
December 16, 2016
LNG Tank - ready for hydrostatic testing
FortisBC carries out a hydrostatic test of the new LNG storage tank, which involves filling the tank to 70% capacity with water, a heavier and denser substance than LNG. The tank is then inspected for integrity and settlement. This test is conducted to meet requirements of the construction quality assurance program for the project.
The test water, sourced from the Corporation of Delta's potable water system, is drained into temporary onsite holding tanks before a gradual release into the sanitary sewer system.
October 9, 2016
Power line upgrade
The upgrade includes reinforcement of BC Hydro's transmission line and the addition of a 13.8kV step-down transformer substation to our site. These provide the power we require for the electric drive of the refrigeration compressor, other auxiliary electrical equipment and lighting of the facility.
June 13, 2016
Tilbury LNG expansion creating jobs and benefiting local communities
The Tilbury expansion project will result in more than $60 million in committed local spending and significant employment benefits across the region. Read the news release.
February 3, 2016
Cold Box delivery at site
LNG is made by a refrigeration system made up of an electric driven compressor and air coolers that circulate refrigerant into a heat exchanger, to remove heat from the natural gas steam. The cold box containing the heat exchanger, filled with insulation, is where natural gas is chilled to its liquid form.
October 28, 2015
LNG tank - roof air raise
Upon completion of the concrete/metal outer shell wall, the metal roof of the outer shell was raised by air pressure.
June 1, 2015
Start of processing area system installation
Work begins on the processing area structures and laying out the foundations of the processing area, followed by equipment deliveries and pipe racks installation. The processing area is where equipment and interconnecting piping for final cleaning and refrigeration of natural gas are installed.
December 16, 2014
Start of LNG tank construction
Following the official start of construction, contractors are mobilized onsite and begin to set up construction offices and trailers, and to begin installation of the LNG tank foundation.
October 21, 2014
Construction begins on $400-million expansion project at Tilbury
FortisBC marks the official start of construction with a ground-breaking ceremony.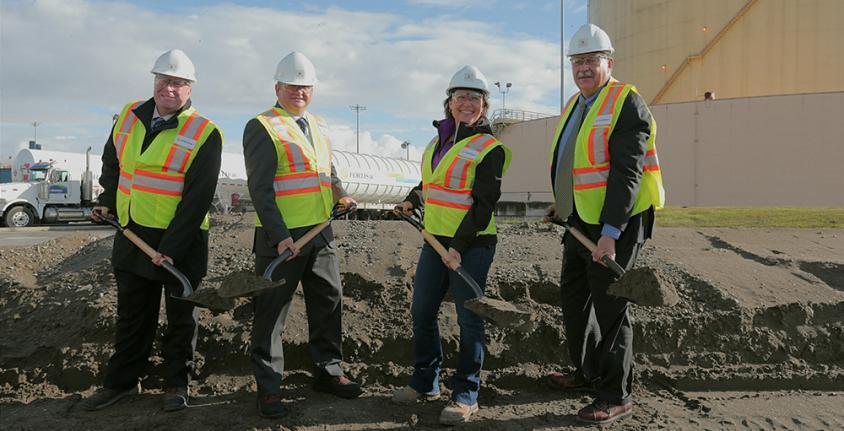 July 28, 2014
Bechtel selected as contractor for $400-million Tilbury expansion project
Bechtel is selected as contractor following a competitive procurement process, bringing global experience in the development of LNG facilities to the project. Read the news release.
January 31, 2014
Ground reinforcement of tank area
From January to June, pre-construction preparation work takes place for the tank foundation, which includes placing approximately 900 stone columns under the LNG tank.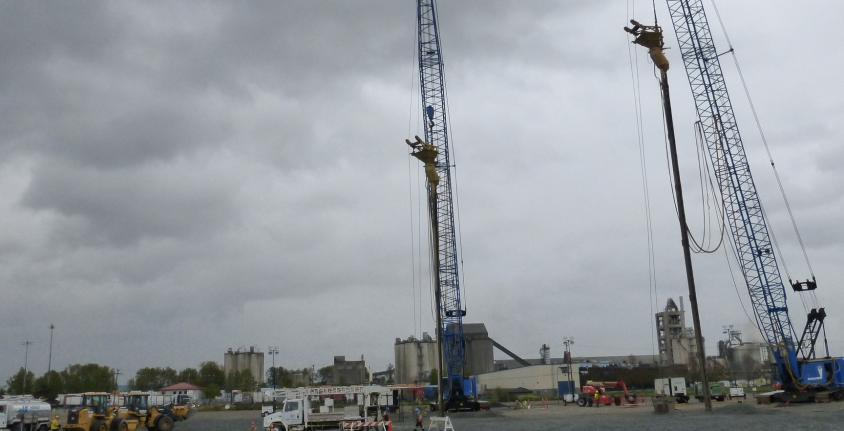 November 28, 2013
Tilbury expansion boosted by government announcement
The planned expansion of FortisBC's Tilbury LNG facility is exempt from a certificate of public convenience and necessity review by the British Columbia Utilities Commission.
Will the Project provide local jobs and other economic benefits?
The Tilbury Expansion project will create employment and contracting opportunities during planning and construction, and long-term jobs once construction is complete. We are committed to creating jobs for local workers through education and training programs, as well as direct and indirect opportunities.
The project's economic benefits will be distributed throughout BC – not only in the LNG industry, but also to the industries that support it, including everything from manufacturing to engineering to professional services. Economic benefits will go beyond the Lower Mainland to the energy heartland in northeastern BC where gas is produced.
Answered on:
Feb 27, 2020
There are currently no events scheduled. Please check back again soon.
How we partner with local communities
FortisBC supports the communities where we live and work. A big part of that is providing support for local organizations and the great work they do in the community. Here are some of the organizations in the City of Delta we've supported recently.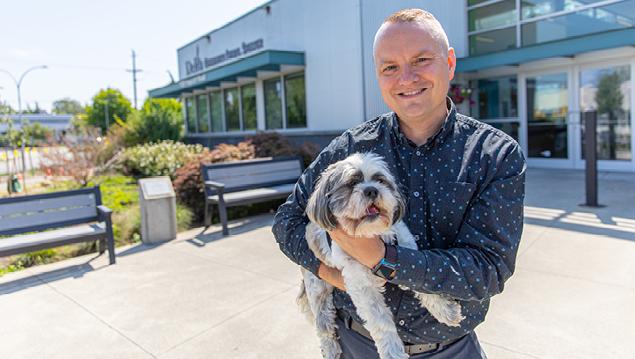 Delta Community Animal Shelter
Free seminars for animal lovers, children calmly reading books to purring cats, dogs frolicking in an off-leash fenced yard…no, this isn't a spa for pets. This is the Delta Community Animal Shelter, and it's changing perceptions of what an animal shelter can be.
FortisBC has been an ongoing sponsor of the shelter including providing funding for the opening of an agility centre and public off-leash area in 2019.
OWL (Orphaned Wildlife) Rehabilitation Centre
Of the 650 to 700 birds of prey that come through its door every year, OWL is able to successfully rehabilitate and release more than 50 per cent back into the wild. Others may be kept at the centre permanently to help with public outreach and education programs in schools, such as long time OWL resident Sonsie, a male bald eagle who is an "education ambassador" for the OWL Rehabilitation Centre.
The OWL Centre received a Community Giving contribution from FortisBC at the 2018 Union of BC Municipalities convention. The award allowed the centre to purchase more life-saving lead poisoning test kits for birds.
Reach Child and Youth Development Society
In 2016, FortisBC presented the Reach Child and Youth Development Society with $10,000 for their Building for Children Together project. This venture will see that a new child development centre is built to ensure children with special needs have a safe and accessible location for support.
In 2016, a donation was presented to the Rotary Club of Ladner, and will go towards a brand new water park located in Memorial Park. The upgrade is critical for this park due to safety issues, including an old concrete floor surface.
The water park is directly across from the new Reach Child Development Centre, and the families it supports will be frequent users of the park.
How the Tilbury LNG Expansion project is creating local jobs
The expansion of our Tilbury LNG facility is creating jobs and economic benefits for local and Indigenous tradespeople, with 1,700 tradespeople registered for work on the expansion project. 
Tom Sigurdson, former Executive Director, BC Building Trades, speaks about how the Tilbury LNG expansion project employs a high number of skilled trades. 
FortisBC is proud to work with the Tsawwassen First Nation (TFN) Construction/Matcon Civil Joint Venture, which provides civil construction site services for our Tilbury LNG facility expansion in Delta. In this video, Chris Hartman, CEO of Tsawwassen First Nation Economic Development Corporation, talks about how local and Indigenous tradespeople are benefiting from the expansion.
We're also supporting First Nations training and employment opportunities through:
25 work experience/employment training programs provided by TMJV, FortisBC's civil engineering contractor (majority owned by the Tsawwassen First Nation)
48 Tsawwassen First Nation students have participated in training programs
Interested in working on this project? Fill out our contractors and vendors form.
Apprenticeship program provides economic and employment opportunities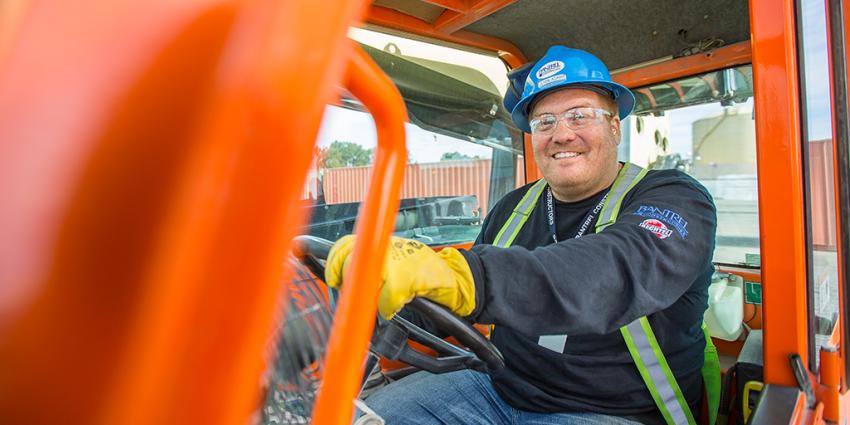 When Tsawwassen resident Clyde Adams was preparing to return to the Lower Mainland, he contacted the Tsawwassen First Nations Human Resources department to inquire about employment opportunities.  Adams knew they could help him connect with companies that reach out to First Nations communities when they're looking for workers. They suggested he contact Bantrel, the contractor responsible for FortisBC's Tilbury Phase 1 LNG Expansion Project. Read his story.
When I grow up, I want to be a scaffolder
Samantha Ethier never saw herself in the role, but she's an apprentice scaffolder on the Tilbury Phase 1 LNG Expansion Project, and loving it. She's always been athletic and willing to try new sports, so when her brother-in-law suggested she try scaffolding as a profession (he was a foreman with a scaffolding company) she accepted the challenge. Read her story.