Liquified natural gas
FortisBC operates two liquefied natural gas (LNG) facilities in British Columbia (BC), including our Tilbury facility in Delta. Tilbury has been operating safely since 1971 to provide energy for our customers during the winter months when they need it most. We've expanded Tilbury to safely produce LNG for trucks, ships and overseas customers.
Learn the facts about how we ensure safety at Tilbury and how LNG is one of the safest ways to deliver energy.
What is LNG?
LNG is made from the same natural gas we use to heat our homes and cook our food. When natural gas is cooled to -162°C it liquefies and becomes much more condensed - roughly the equivalent of shrinking a beach ball to the size of a ping pong ball. In liquid form, it can be efficiently stored and transported inside a double-walled container similar to a thermos. 
Natural gas burns cleaner than other fossil fuels. That's why it's seen as a global contributor to the reduction of GHG emissions, as countries move away from using coal-fired or diesel fuels in an effort to reduce CO2 emissions and improve air quality.
LNG is not flammable or explosive in its liquid form which means converting natural gas to LNG is one of the safest ways to transport energy.
LNG is stored and transported inside double-walled or double-hulled containers to keep it cold and to reduce the risk of a leak.
When stored as a liquid, LNG is not flammable or explosive because there is no air to create a mixture that could ignite.
In the unlikely event of a leak, LNG would warm, turn back into natural gas, rise and dissipate without leaving any residue on land or water.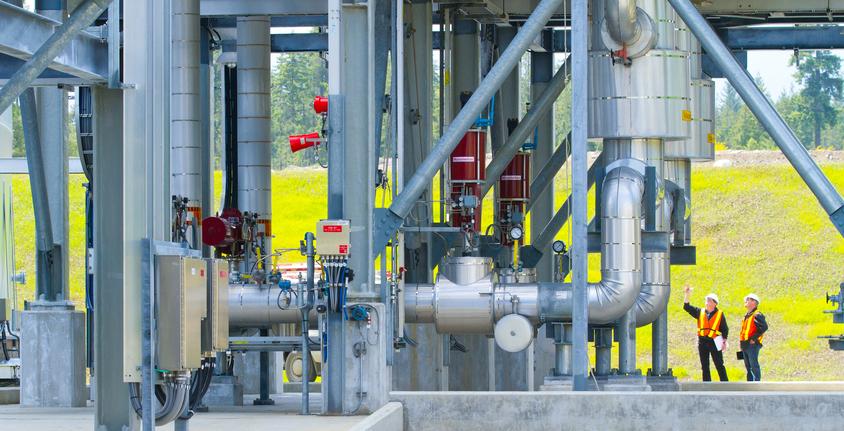 Natural gas is less flammable than the petroleum-based fuels commonly used in cars, trucks and ships. Converting it to LNG is one of the safest ways to transport energy.
LNG has safety advantages over other commonly used fuels like propane or gasoline because of the physical and chemical properties of natural gas.
Natural gas has a much higher ignition temperature than gasoline – about 1,200°F (648°C) compared to 600°F (315°C) for gasoline – making it more difficult to ignite.
When natural gas mixes with air, it becomes too diluted to burn. If the volume of natural gas in the air is below about five per cent or above about 15 per cent, it will not burn. This is a very narrow range of flammability compared to other petroleum-based fuels.
Safety of LNG facilities
Our LNG storage facilities have numerous safety features and procedures in place to ensure they continue to operate reliably, safely and efficiently.
The lower Fraser River is a safe and suitable location for a liquefied natural gas facility.
Tilbury has been operating safely since 1971 in an industrial area in Delta and plays an important role in ensuring British Columbians have the energy they need.
For marine customers interested in cleaner marine fuel, the Tilbury site has access to an existing deep-sea navigation channel on the Fraser River, which is already being safely used as an international shipping route.
The Vancouver Fraser Port Authority has developed rules and procedures specifically for the safe navigation of all LNG carriers on the Fraser River.
FortisBC's LNG facilities are built to meet or exceed government and industry codes and standards to ensure the safety of the public and our employees throughout the life of the facility.
LNG facilities are subject to federal, provincial and municipal standards, codes and safety regulations to ensure the safe design and operation of LNG facilities in Canada.
Tilbury's most recent expansion was designed and built by Bechtel, an engineering, construction and project management company that has designed and built many LNG facilities around the world.
The recent expansion included the construction of an above-ground full containment storage tank that has become the industry standard. The proposed new storage tank would be built to these same standards.
FortisBC's LNG facilities are designed and constructed to meet seismic design standards for earthquake safety.
Tilbury has been in operation since 1971 and has continued to operate safely through a number of seismic events.
All FortisBC facilities undergo regular safety and seismic inspections.
Extensive stone columns were installed below ground as part of the expansion completed in 2018 to help reduce the risk to the facility during a seismic event.
Similar seismic improvements are planned as part of future expansion at the site.
Tilbury is one of many LNG facilities operating in urban areas all over the world. 
Tilbury Island is primarily surrounded by agricultural, industrial and commercial operations and has been operating safely for nearly 50 years. Here's how the locations of other LNG facilities operating in urban areas compare:
The Corpus Christi LNG terminal in Texas, operating since 2018, is located less than two kilometres from a residential area.
The Yankee Gas peak shaving facility in Waterbury, Connecticut, operating since 2008, is located about 150 metres from a residential area.
There are a number of other LNG facilities operating near major cities around the world such as Barcelona, Boston and Tokyo. Some have been operating since the 1960s.
Safety of LNG shipping
LNG has been safely shipped worldwide for 60 years. Now, more and more, it's also fuelling transportation – on land and the oceans.
In more than 60 years of service worldwide, there has never been a major incident involving an LNG carrier.
Modern LNG carriers are designed and constructed with many features to ensure safety including insulated tanks and double hull structures separated by thick insulation.
Ships have leak detection technology, emergency shutdown systems and advanced radar and positioning equipment.
LNG carriers will follow port guidance for safe navigation in BC waters.

Escort tugs will be tethered to each carrier filled with LNG.
Local pilots will be onboard to guide the ships through our local waters.
Vessels will stay within established shipping routes, and follow safe navigational speeds for the area.
LNG carriers and other LNG powered vessels used in BC would be newer builds, designed with the most advanced emissions and safety requirements, meaning they are cleaner, quieter and safer.
There are now about 600 LNG carriers worldwide and the industry continues to build new vessels with more than 200 new LNG carriers on order.
LNG is a safe energy choice for marine shipping and is an important step in reducing emissions and underwater noise.
LNG powered vessels can help reduce the risk of spills on marine life by displacing the use of oil or diesel as marine fuels.
Canada has standards and regulations for LNG production and shipping. The proposed Tilbury expansion and LNG vessels in BC would be built to meet those standards.
The LNG shipping industry in Canada is governed by international, national, provincial and municipal regulations. These include standards for the safe handling, storage, carriage and use of LNG by ships to ensure the public and workers are kept safe.
Foreign ships, including all LNG carriers calling on Canadian ports, are built under strict international rules and surveyed annually.
These ships also receive regular inspections by qualified inspectors to ensure they're complying with these regulations.
LNG carriers travelling on the Fraser would be smaller than the car carriers and container ships that currently travel the Fraser River.
LNG carriers and bunkering vessels would be within the ship size parameters set by the Vancouver Fraser Port Authority (VFPA), the agency that oversees ship traffic in the Fraser River.  The VFPA consulted with numerous experts, including the Fraser River Pilots, to establish these safe navigation parameters.
The Fraser River Pilots, an independent association of maritime pilots that specialize in piloting the large foreign ships in the Fraser, also participated in numerous simulations, to show that LNG vessels could be move safely along with other vessel traffic on the Fraser River.
Tilbury marine LNG: reducing emissions, expanding opportunities
Liquefied natural gas (LNG) from our Tilbury facility is helping marine industry partners meet stringent international regulations and reduce greenhouse gas emissions by up to 27%.
Through industry-leading initiatives, like our truck-onboard-to-ship LNG bunkering system for Seaspan ferries, and continued investment in our marine LNG infrastructure, our vision of Vancouver as a global LNG marine hub is becoming a reality.