Eagle Mountain - Woodfibre Gas Pipeline Project
As a utility, meeting the energy needs of our customers is what FortisBC does every day.
That's why when our customer Woodfibre LNG asked us if we could deliver natural gas to them, we began to explore how. Now, after years of talking to the community and rigorous environmental protection planning, construction has started on the Eagle Mountain – Woodfibre Gas Pipeline (EGP) Project.
Project overview
The project will expand a portion of our existing natural gas transmission system, which was built in 1991 to serve Squamish, the Sunshine Coast and Vancouver Island.
It involves adding 50 kilometres of new gas pipeline between Coquitlam and Squamish. This includes 47 kilometres of new 24-inch gas pipeline from north of Coquitlam to the Woodfibre LNG site, and an additional three kilometres of pipe near Westwood Plateau in north Coquitlam. The majority of this line will run alongside our existing pipeline to minimize environmental footprint.
A key component of the project is the construction of a 9-kilometre tunnel under the Squamish Estuary to limit environmental impacts.
The route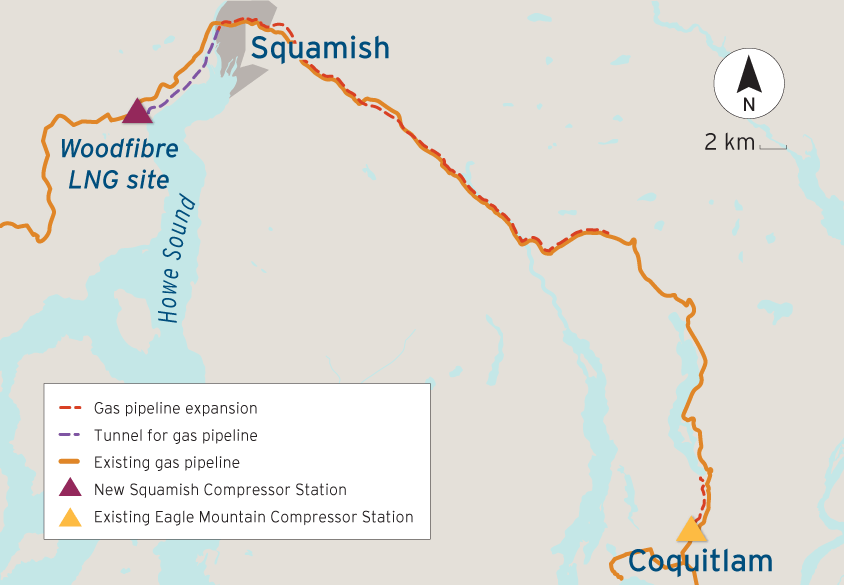 Generally, the new gas pipeline will follow the existing gas pipeline route to limit new impacts to the environment along the route.
In some cases, following the existing route entirely will not be possible. Throughout project planning we've worked to minimize impacts and respond to feedback. Examples include:
achieving the shortest possible route and the smallest overall footprint
minimizing crossings of streams and rivers
incorporating Indigenous, landowner and stakeholder input
avoiding known archaeological or heritage sites
avoiding sensitive terrain and environmental areas
Compressor stations
Compressor stations are one of the most important components of the natural gas transportation system. They perform the essential tasks of compressing the natural gas and regulating its pressure so it can flow through the system to our customers' homes and businesses.
To provide service to Woodfibre LNG, we considered a number of factors, including feedback from the public, the District of Squamish and Skwxwú7mesh Úxwumixw (Squamish Nation) during the environmental assessment processes. We'll continue to listen and respond as we move forward.
Squamish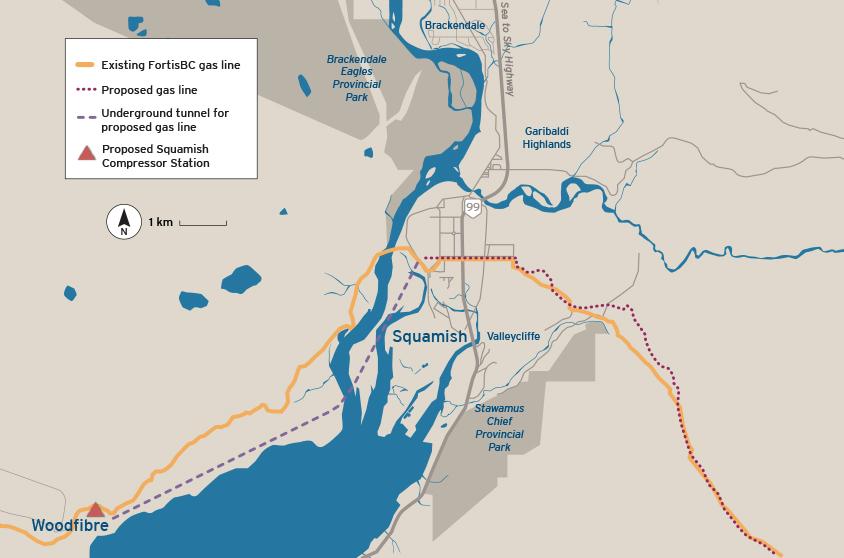 We have proposed to build a new compressor station in Squamish. The new Squamish Compressor Station will help keep the gas moving through our existing system as it makes its way to our customers on the Sunshine Coast and Vancouver Island.
Following extensive consultation and community feedback, we sought approval to relocate the Squamish compressor station to the Woodfibre LNG site from the previously proposed Mount Mulligan location. With this new site, the compressor station would be more than seven kilometres away from the nearest residences. The Woodfibre LNG property is already an industrial site. Constructing the compressor station at this location will result in less disturbance to the surroundings than at a previously undisturbed site like Mount Mulligan. We've also modified the design of the station to reduce the number of compressor units and overall horsepower.
Coquitlam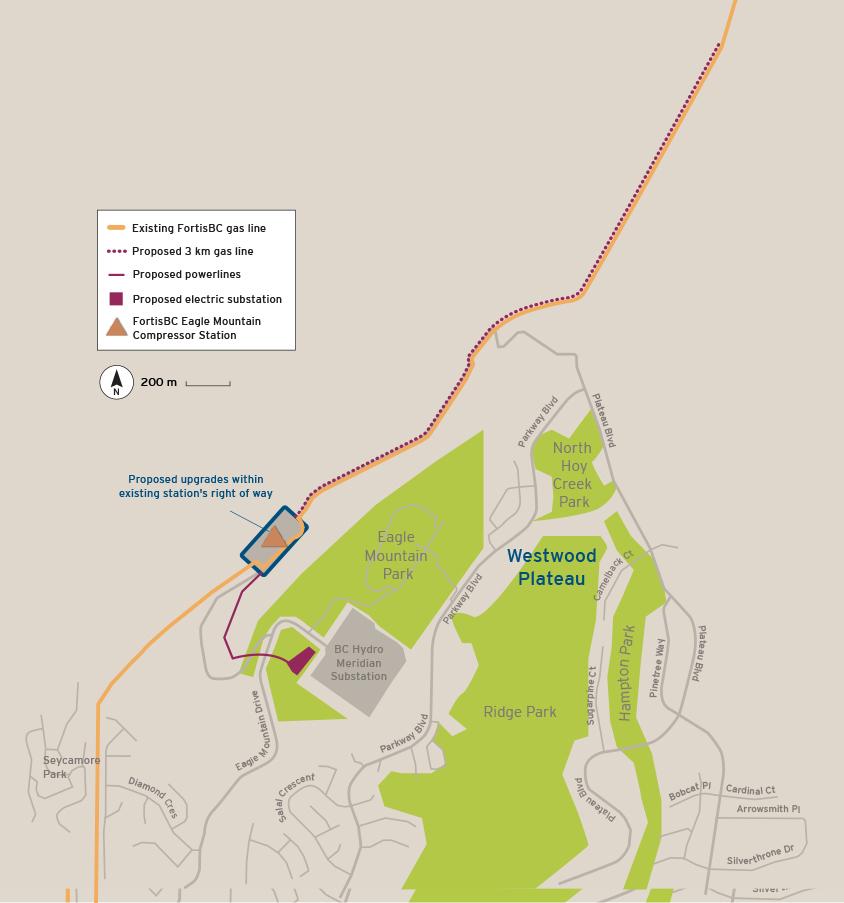 We would install two new electric powered compressor units at the existing Eagle Mountain compressor station in Coquitlam, reconfiguring the station to accommodate this expansion within the existing footprint. Manufacturers of these units have modified the products they offer since we received our Environmental Assessment Certificate in 2016, resulting in increased size and horsepower that eliminates the need for new excavation. The reconfiguration to allow the increased size of the units was approved by the Environmental Assessment Office and Skwxwú7mesh Úxwumixw through a harmonized review process, and minimizes the environmental and visual impacts of this work.
Rigorous environmental reviews and research
For nearly ten years, we've been meeting with local residents, Indigenous groups, stakeholders, local government and the regulators to gather and incorporate feedback into various aspects of our environmental assessment.
On June 24, 2016, Skwxwú7mesh Úxwumixw Chiefs and Council voted to approve the project. On August 9, 2016, the provincial government issued an Environmental Assessment Certificate for the project.
Project changes approved
Since then, a number of project changes were proposed to reflect community feedback and technical advancements identified during detailed design. In fall 2021, the BC Environmental Assessment Office (EAO) approved these changes, followed by Skwxwú7mesh Úxwumixw's approval in early 2022 as part of a harmonized review process with the EAO. These approvals amended both the Environmental Assessment Certificate and the Squamish Nation Environmental Assessment Agreement. Learn more about these changes and what we proposed.
Protecting the Skwelwil'em Squamish Estuary Wildlife Management Area
The 673-hectare Skwelwil'em Squamish Estuary Wildlife Management Area (WMA) plays an important ecological role and serves as habitat for wildlife. Our existing system has been operating underneath the WMA since 1991 safely and without incident.
To access the Woodfibre LNG site, a segment of the proposed expanded gas pipeline section needs to be installed underneath the WMA. We are committed to operating responsibly and mitigating potential environmental impacts.
In response to public and local Indigenous community input, FortisBC has proposed the following approach to installing the gas pipeline under the estuary:
An underground tunnel would be built about 25 metres below the estuary waterbed. The new sections of gas pipeline will be installed within the tunnel.
Tunnel construction would continue through the Monmouth Ridge Mountain and exit at the Woodfibre LNG site.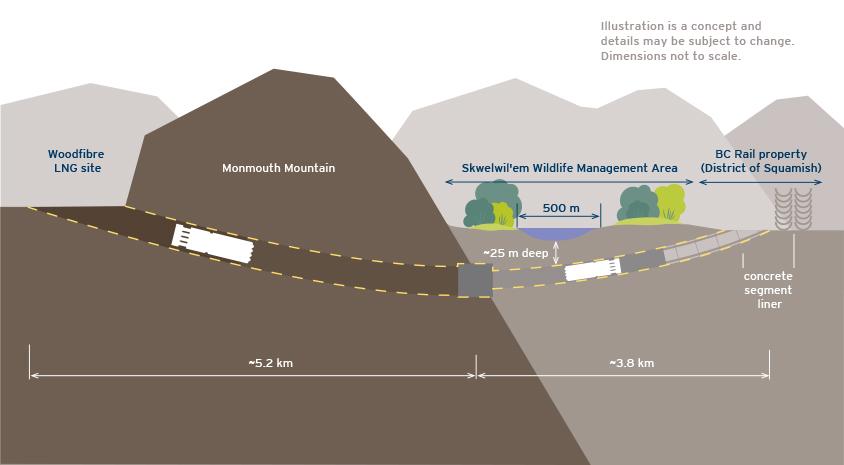 The Environmental Assessment Office and Skwxwú7mesh Úxwumixw (Squamish Nation) approve the project.
Read more
Read less
Anticipated start of Squamish Compressor Station construction
Anticipated start of pipeline construction
Where will the Squamish Compressor Station be located?
Updated February 16, 2023
In response to feedback from the public and other stakeholders, FortisBC proposed in 2020 an alternative location for the Squamish Compressor Station as one of four amendments to our Environmental Assessment Certificate. This alternative location would move the compressor station directly to the already industrial Woodfibre LNG site, ensuring more than seven kilometres' distance from the nearest Squamish residences.
Answered on:
Jun 15, 2021
Where can I get more information about the project?
You can find more information on our project overview page. This page provides a more detailed view of the project including maps, an LNG basics video, and graphics that describe tunnel construction. You can also sign up for our Eagle Mountain – Woodfibre Gas Pipeline project e-newsletter to get the latest updates.
Answered on:
Jun 15, 2021
How will you protect environmentally sensitive areas during construction?
Updated February 16, 2023
We are committed to delivering this project in an environmentally responsible manner, and will work with experts, consultants, Indigenous communities, and local groups every step of the way to achieve this.
Throughout project planning, we've taken a number of steps to avoid disturbance to environmentally sensitive areas such as the Skwelwil'em Squamish Estuary Wildlife Management Area (WMA). This includes constructing an underground, nine-kilometre tunnel that will house the gas pipeline from the BC Rail property in Squamish to the Woodfibre LNG site. In order to protect sensitive ecosystems and wildlife, the tunnel will be constructed approximately 30 metres below the surface of the WMA and continue under the Monmouth Ridge Mountain, resurfacing at the Woodfibre LNG site.
In addition to these steps, the project has undergone a rigorous environmental review process. We received environmental assessment approvals in August 2016 when the BC Environmental Assessment Office approved the project and issued an Environmental Assessment Certificate (EAC). The Squamish Nation also voted in 2016 to approve the project under an Environmental Assessment Agreement following their own environmental assessment—the first of its kind in Canada.
For more than nine years we have met with local residents, stakeholders, Indigenous groups, local government and the regulators to gather and incorporate feedback into our environmental assessment application and proposed amendments. We will continue to meet with these groups through the construction phase.
We believe in leaving the places where we work in the same or better condition. This approach will guide our restoration efforts once construction is complete.
Answered on:
Jun 15, 2021
Why are you building this project?
Updated February 16, 2023
As a utility, delivering energy to our customers is what FortisBC does. When one of our customers, Woodfibre LNG, approached us to provide natural gas to their facility, we put together a comprehensive plan to meet that request, which ultimately resulted in the Eagle Mountain – Woodfibre Gas Pipeline (EGP) project.
Answered on:
Jun 11, 2021
How will FortisBC ensure the gas pipeline is safe?
The safety of the public and our employees has always been, and will continue to be, our top priority.
FortisBC has safely owned and operated natural gas pipelines within British Columbia for over 60 years with a present-day network of natural gas infrastructure that spans 49,000 kilometres. This includes our infrastructure that extends north and west from Coquitlam en route to Vancouver Island since its original construction 30 years ago.
When designing and operating new gas pipelines, FortisBC upholds our excellent safety record by ensuring we meet or exceed the regulations set out by the BC Energy Regulator and applicable standards outlined by the Canadian Standards Association (CSA). We also strictly adhere to an Integrity Management Plan, which includes activities such as monitoring our transmission system 24-hours a day, 365 days a year; conducting regular inspections; and using highly advanced technology to gather detailed information from within our pipeline systems to monitor gas line condition.
These and other activities help to ensure that our gas system assets are suitable for the continued safe, environmentally responsible and reliable service throughout the whole life-cycle of our natural gas infrastructure.
Answered on:
Mar 15, 2021
How will FortisBC ensure the compressor stations are safe?
Safety is our top priority at FortisBC. Compressor stations are safe and coexist in communities across the province. They maintain the pressure of natural gas in our system and help move the natural gas to our customers' homes and businesses. We have a detailed Process Safety Management program that underpins all of our compressor station plans and practices. This program contributes to safe operations, reliability, and environmental protection, and covers planning, construction, and operations. It also ensures we maintain compliance with all regulatory requirements and ensures we are managing our gas infrastructure consistently across our system.
Answered on:
Dec 2, 2020
What noise impacts will accompany the Eagle Mountain Compressor Station expansion in Coquitlam?
Updated February 16, 2023
We estimate that proposed changes to the Eagle Mountain Compressor Station expansion will result in a two-decibel increase. The proposed changes will allow us to accommodate the expansion within the station's existing footprint, reducing environmental and visual impacts from the original plan. The total estimated sound level will remain below the level defined by the BC Energy Regulator in its BC Noise Control Best Practices Guideline.
Once the compressor station is operational, a number of noise mitigation measures will be implemented, such as: 
Coordinating planned maintenance activities so that any gas venting takes place during daytime hours.
Preventative maintenance to reduce frequency of station shutdown and venting.
Optimizing pipeline system operations to favour the use of the new electric compressors as the main units, with gas compressors acting as peak or backup units only. This approach may reduce noise below the levels they are at today. 
To continue monitoring sound levels, FortisBC will incorporate monitoring measures in our operational management plan for the station.
Answered on:
Dec 2, 2020
Why is this proposed gas line larger at 24 inches in diameter than the existing line that runs through Squamish and over to Vancouver Island?
The proposed natural gas pipeline will be 24 inches in diameter and for most of the route will run alongside the existing natural gas pipeline, which has a diameter of 12 inches in the Coquitlam area and a diameter of 10 inches in the Squamish area. The diameter of the proposed pipeline is a result of the volume of natural gas FortisBC will be transporting to Woodfibre LNG. The proposed pipeline and the existing pipeline are connected and therefore the pressure level will remain the same in both pipelines. The new pipeline will operate the same way the current pipeline has been operating for the last 30 years.
Answered on:
Nov 17, 2020
Who is paying for the project?
Woodfibre LNG will pay for all project costs related to serving the proposed Woodfibre LNG facility.
FortisBC will provide service to Woodfibre LNG based on a rate schedule that has been reviewed and approved by the provincial government and the BC Utilities Commission (BCUC) in accordance with the provincial government's Special Direction No. 5.
Answered on:
Nov 17, 2020
How is FortisBC, as the organization behind the project, helping to achieve the province's emissions reduction goals?
There is an urgent need to reduce greenhouse gas emissions – both here in BC and globally. We are committed to leading the transformation to a lower-carbon future and is focused on partnering with customers, industry and government to help achieve it.
FortisBC is making real progress on its short-term greenhouse gas reduction goals, guided by our Clean Growth Pathway. We have set an ambitious path forward that supports the province's own goals as laid out in the CleanBC plan and FortisBC's long-term 2050 climate targets. This includes positioning BC as a vital domestic and international liquefied natural gas (LNG) provider to lower global greenhouse gas emissions.
The Eagle Mountain - Woodfibre Gas Pipeline project will supply gas to Woodfibre LNG's proposed export facility, which can reduce 3.5 million tonnes of CO2e per year when used to replace coal-fired electricity in Asia.
Updated August 11, 2022
Answered on:
Nov 17, 2020
There are currently no events scheduled. Please check back again soon.
Indigenous engagement
Indigenous feedback helps to improve our Eagle Mountain - Woodfibre Gas Pipeline Project
We value working directly with local First Nations to listen to their concerns and understand their perspective. We're engaging with the following First Nations to discuss the expansion project details and listen to their questions and concerns:
Community engagement
One of our top priorities is to engage local communities so that they understand the work we're doing
Keeping the community informed
We value the importance of keeping the community informed about the project. One of the ways we do this is by meeting with community groups and stakeholders to provide project updates. A recent example of this is our presentation to the Rotary Club of Squamish in June 2021. 
Tri-Cities Chamber and SHARE Society food drive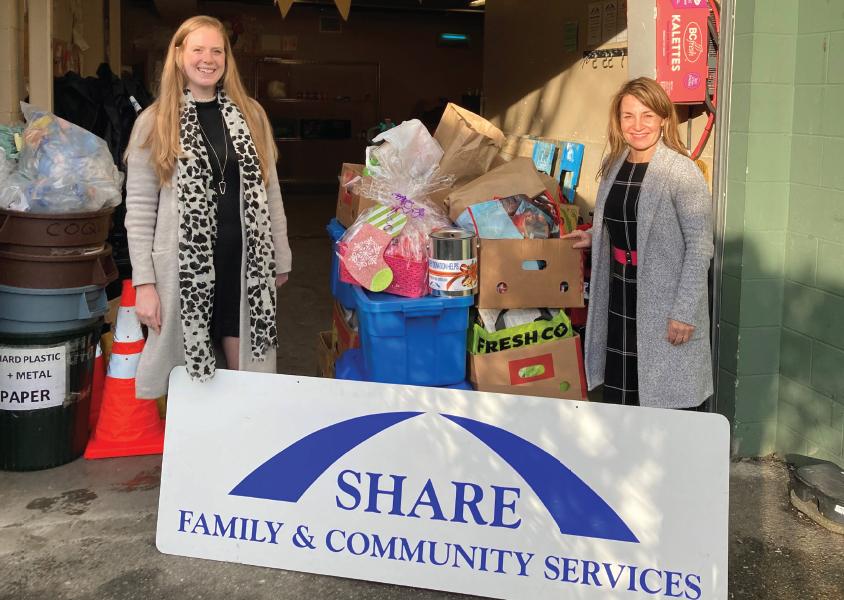 We joined and supported the Tri-Cities Chamber for their 2021 Christmas Luncheon, which featured a food drive for the SHARE Family & Community Services Society. In total, the drive collected over 600 pounds of food for families in need. We were thrilled to partner with the Chamber on this initiative, and will continue looking for similar opportunities to give back to the communities where we live and work
Squamish Days Loggers Sports Festival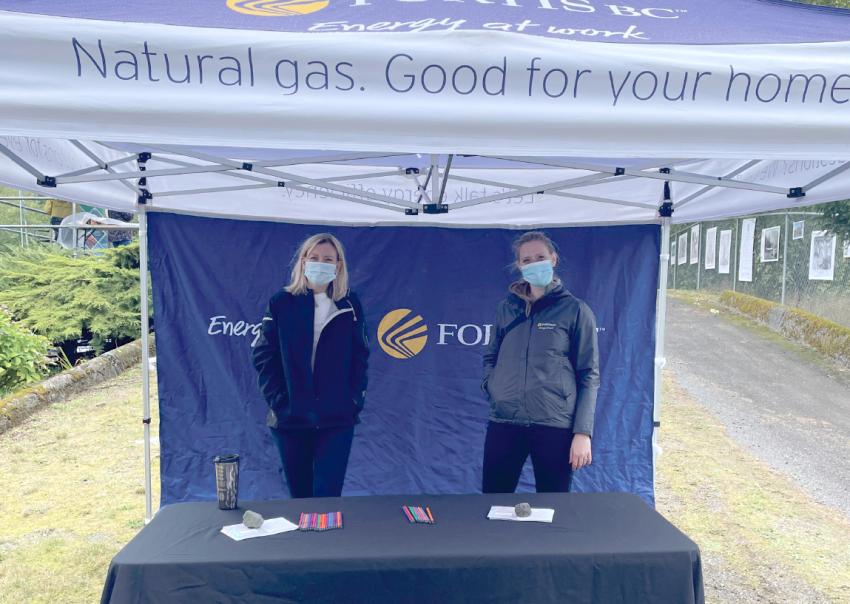 Our team joined the Squamish community at the Squamish Days Loggers Sports Festival, which was back in action in September 2021. We were able to connect with hundreds of attendees and enjoyed sharing information and answering questions about FortisBC and the EGP Project. Congratulations to all the competitors, and we can't wait to see the community at this event in future years.
A conversation with Bryan Couture
The Squamish Day Loggers Sports Festival celebrates the connection between Squamish and local industry. We spoke with Bryan Couture in 2016, then-president of the Squamish Days Loggers Sports Association, about the importance of the event to the community and how industry growth can benefit Squamish.
Questions from the community during 2020
We know you have questions, and our team is here to provide answers. In 2020, we held several virtual information sessions in Squamish and Coquitlam to ensure interactive opportunities for the public to ask questions and learn more about the project.
Our team compiled 30 questions from our August update to the Squamish community. We also compiled over 50 questions from all six sessions.
We'll continue to keep the public informed as the project progresses.

FortisBC hosts another fun family event in Squamish community
In June 2018, we sponsored a free mini-golf and barbecue event at the Whistle Punk Hollow Adventure RV Park for the community of Squamish. More than 100 people visited our booth and learned more about our natural gas services and our project in the area.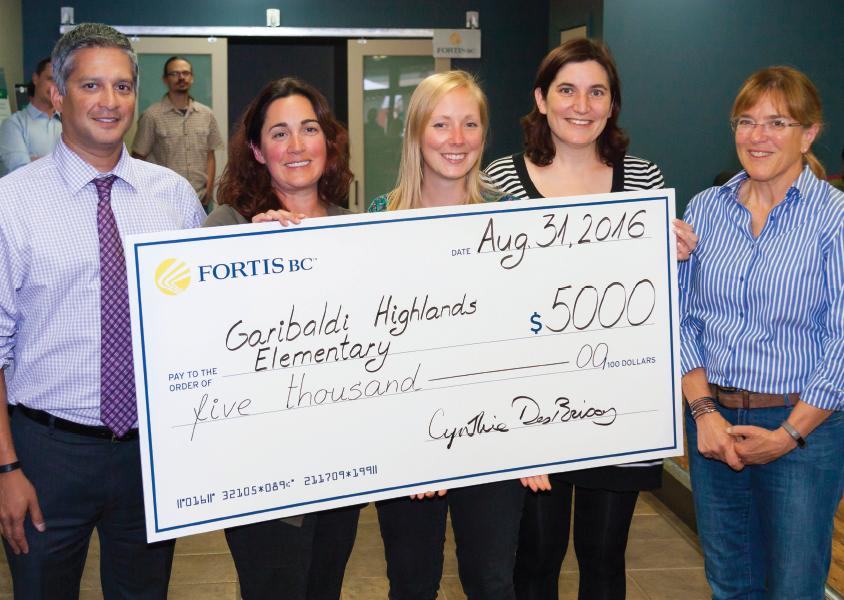 Community grants support local initiatives
At FortisBC, we serve more than 135 communities across the province. Giving back to the communities where our over 2,400 employees live and work is an important part of our efforts to create a sustainable future for British Columbians.
We've been a part of the Squamish community for over 30 years. And we take our role as a good corporate citizen very seriously. The local recipients of our community investment grants include a wide-range of organizations that are working hard to make Squamish and the Sea-to-Sky region a better place to live.
Regulatory process
In 2016 the project received approval from the provincial Environmental Assessment Office and Skwxwú7mesh Úxwumixw (Squamish Nation). In 2021 the project's approval was extended for a further five years. Materials related to these discussions are available below.
You can view all finalized environmental and condition management plans at the Environmental Assessment Office's project portal.
Additional resources
We've been engaging on the Eagle Mountain - Woodfibre Gas Pipeline Project since 2013. Materials related to these discussions are available below.
Temporary Use Permit applications
Proposed temporary Workforce Lodge
In response to community feedback, we are proposing to build a full-service Workforce Lodge east of Squamish that can accommodate the 350-600 construction workers needed throughout project construction. Housing our workforce at a single out-of-town location will help ensure it can provide economic benefits for local businesses, while mitigating impacts on housing and traffic.
We started engaging with Indigenous Nations, and key community groups and stakeholders in 2019 through our Community Table to ensure the Temporary Workforce Lodge is operated safely and responsibly, with a focus on the safety of vulnerable groups. More recently, this engagement included presenting to the District of Squamish Council on March 22, 2022, and talking to hundreds of local residents including at Squamish information sessions on April 27, June 6, and November 23, 2022.
Proposed temporary construction laydown yard
We're proposing to locate our site office and construction laydown yard on a privately-owned site near the intersection of Mamquam River Forest Service Road and Powerhouse Springs Road. This location is close to our proposed temporary Workforce Lodge and the Indian River Road which we will use to access worksites, meaning it will minimize local disruptions and traffic impacts. 
It is important to note that the Mamquam River Forest Service Road and Indian River Forest Service Road will need to be used for construction traffic regardless of where the site office and laydown yard or workers lodge are located as they are the only access route to the Indian Valley area from Squamish.